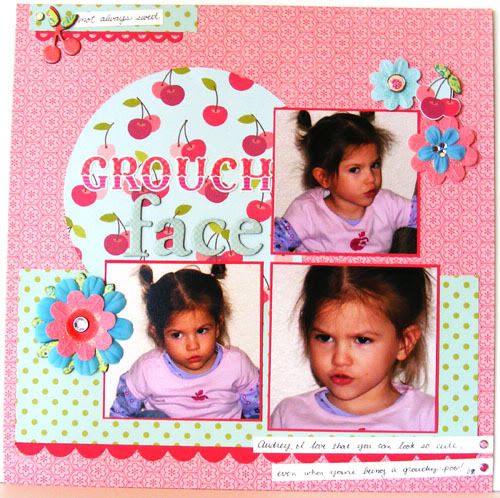 All the pages I'll be posting this week are from that crop I did last weekend as well. I started pulling away from summer layouts and doing some others, like this one of A a couple years ago. I remember that shirt oh so well, another favorite. Everything was apples then - apple shirts, apple hair ties, apple dresses, apples to eat ;) A was just a little apple then! And while I do have apple paper, the cherries just went so well with her outfit and her not so sweet faces.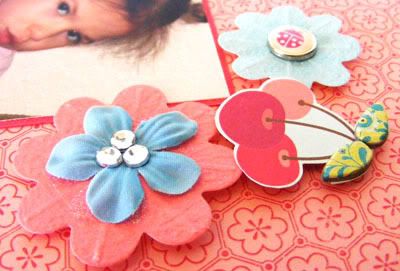 Here's a closeup of one of the cherries. I simply cut some out of this paper, pop dotted them, and then added some urban prairie chipboard petals as leaves to give it more dimension. Up on the top left with the cherry chipboard the mini journal reads 'not always sweet'. If you've been reading for a while you know that A can be such a little grumpy gus. It started around the time she turned two and unlike other phases that eventually faded away, A remains to this day a little grouch-poo. I love her grouchy faces though these are more 'I don't think so' faces than grumpy ones ;)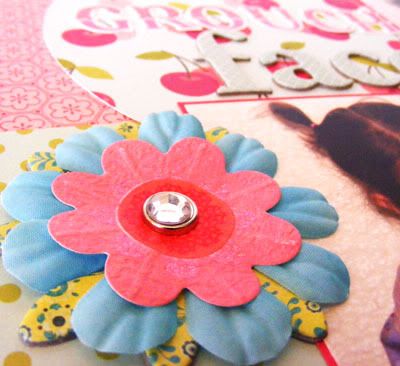 I had so much fun using up more of my urban prairie chipboard on this. Embellishing the layouts was the highlight for me at the crop. It would take me so long to get a page base together the way I liked that by the time I got to embellish I had all kinds of ideas on what I wanted to add for the finishing touches ;) Enjoy the page and have a happy Monday!