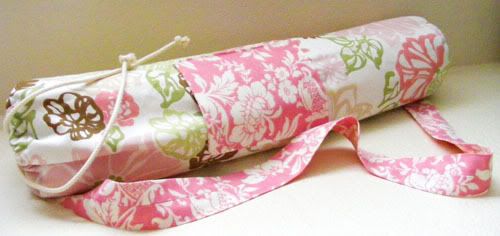 Yoga is pretty much the only exercise I truly enjoy. So I decided to give my yoga mat some much needed love and sewed up my very own yoga mat bag!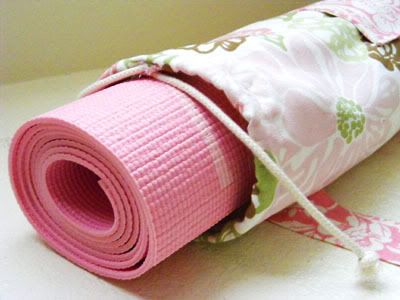 There are plenty of yoga bag tutorials out there and there is a pattern for a yoga mat in nearly every one of my sewing books. I really loved a lot of the patterns and ended up combining the two I felt I could handle. Simple Sewing has a super easy pattern but I liked the rounded bottoms better so I used that part of the One Yard Wonders pattern as well as the larger pocket and lining. Amy Butler has a free
Nigella Yoga Bag
pattern that doesn't have a closed top if you like the open style more (if not you can add 4"-5" and make a casing for the cord closure) and Sew 4 Home has a lovely
Yoga Mat Tote
tutorial if you prefer a tote style.
I used some home decor fabric for the weight and because it was on sale ;) Just a tip if you want to use the same, I ended up having to double check labels since most all of those fabrics were Dry Clean Only. I'm definitely not a dry cleaning girl so I found some that were machine washable. Plus the fabric matched my yoga mat, yay! Total time was about 2 1/2 hours for me. Now I've got a great bag to store my mat in between workouts ;) Thanks for popping by and I hope you have a superb Saturday!