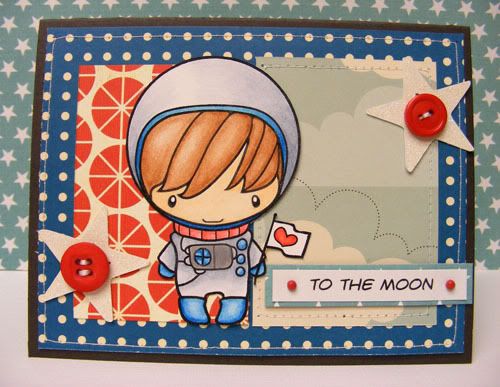 That's how much I love you (on the inside). Isn't this guy such a cutie!
Sparkle
RAKed me a bunch of darling Greeting Farm images quite a while back and I've been
hoarding
saving them until I was in the mood to color again. It's taken forever for me to get any coloring mojo back but after the past couple weeks watching Caitlyn being super artistic and shading her coloring book pages I caught the bug. Of course when I color she stops coloring her page to watch me. When I asked her what she was doing she said "I'm coloring with you mom." "Don't you mean you're watching me color?" "Yeah, whatever." ha! Caitlyn has just started saying 'whatever' and everytime she does it totally catches me off guard. I got my first attitudey "Whatever Mom" last week and I can't remember what I said to induce it. Probably because Paul and I got such a good laugh out of it before we tickled and teased her about saying 'whatever' to me. Anyway, about the card. I actually CASEd one of Sparkle's cards, she always makes such cute ones and I knew if I copied one of her designs I'd end up loving the card. She actually used a
sketch #16 from Sketch Girl
for her card so I headed over to check the sketch too. Enjoy and have a Happy Monday!
Supplies : Paper - October Afternoon, Sassafras, My Minds Eye; Buttons and Cardstock by Papertrey Ink; Glitter Cardstock; Basics 1 card for Slice (stars); mini brads by Queen Co.; Sentiment printed from my computer; Coloring done with pencils and gamsol;