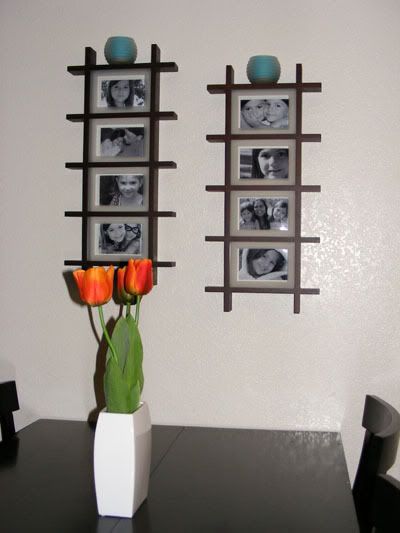 I'm so bad when it comes to getting before/after pictures because I never remember to take the before ones, lol. Anyway, this little project came after having our walls pretty close to the same in our living space for the last 4-5 years. I like to change something around each season, but I usually stick to changing out the flowers in one of the vases or pillow covers or maybe moving things around on the piano and bookshelves. But I finally got tired of the old pictures on our walls which were all 4 years or older so I decided to switch it up. Here's where the biggest change happened. This wall originally had a mix of different sized black frames with color pictures in it, a collage that was filled with old pictures from 4 years ago when Audrey was about 3 months old. I took the frames from under the clock, turned them vertically and then added some blue paper in the candle holders for a pop of color. The vase and tulips were my only purchased addition, coming in at under $9 for everything including the river rocks inside. I printed out more recent black and white photos to fill the shadow box for a look that's much more streamlined than what we had before. This is my favorite part of my quick little redecorating project.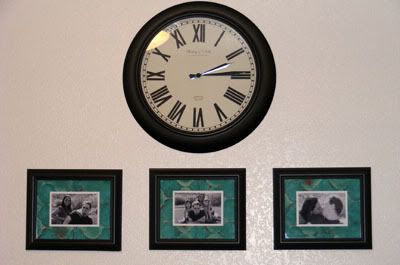 Here is where those shadow boxes were originally, only they were set straight across horizontally under the clock with color photos of Cait when she was 6 months old and the candle holders were left plain white. Now the space is updated with 3 matching frames taken from the hall and the photo collage I mentioned. I used a small 1/4 yard piece of Lantern Bloom fabric by Michael Miller to mat new black and white photos from our family pictures taken last summer. I'm loving the black and white photos and that blue is one of my favorite shades.
The striped pillow is a simple pillow cover I made for one of my Pier 1 pillows that we got when school started in the fall. The pillow was a pretty chocolate with embroidered fern like leaves; lovely, shimmery, and silky, but I've been in the mood to change it. I used 1/3 yard of this striped fabric from Lantern Bloom to whip together a pillow cover. Which worked out great for the previous pillow cover since it definitely needed a wash after all the abuse my kiddos put it through. Paul would just toss it aside, he doesn't like 'silky' he says and much prefers the plush and cotton pillows we have now ;)
And here's the pillow I made for my desk chair out of the scraps from the frames and the stripe pillow. It was another of that same chocolate embroidered pillow. I wanted something fun but didn't want to cut into any more of my lantern bloom fabric (which I'm saving for a lap quilt), so I used the scraps to make a simple patchwork. I used some plain chocolate fabric to finish the pillow cover and love how it came out. The only patchworks I've done have been kiddy or little girl garden fabrics so it was a real treat for me to use more grown up designs ;) I know it's nothing spectacular and it's hard to see the difference without before photos, but I love the change especially since I got to do it using stuff we already had and spending less than $10 for a fun addition. I hope you enjoyed this little peek into our apartment! Thanks for popping by and have a lovely Sunday!