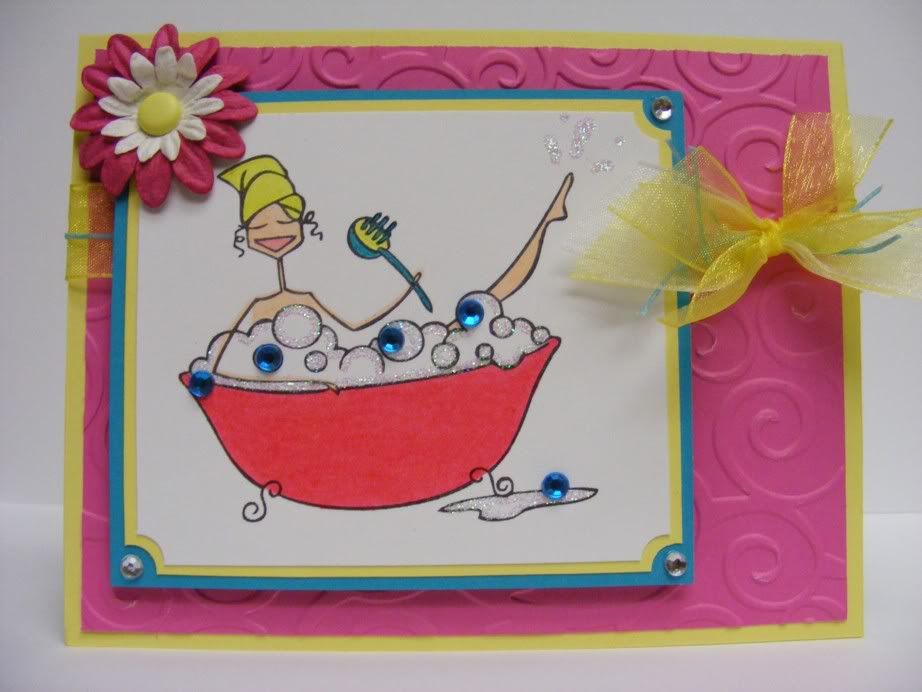 Colors : Watermelon, Sunkiss Yellow, Ocean (BCC12)
Stamps : Bubblebella
Accents : Prima (pink flower), Just Blooms Autumn Daisy (white flower), Rhinestones, Prisma Glitter, Organdy (white and yellow), waxy flax, bigger brad (sunny yellow)
Made this for the #12 Bella color challenge. Challenge is hot pink, teal, and banana yellow. This was a fun color combo after I got over the 'what am I going to make with that?' mode. Everytime I have to use a teal/turquoise type of color I am thrown lol. Her tub is more pink in RL than it shows in the pic. I looks red here, but really it's bright pink :D I am still awaiting my new bellas. I'm hoping that they ship soon!! I ordered them last week, the day goodluckabella released! I'm so excited, I can't wait to play with her and all my other gals!
Just for fun, the Bellas I am anxiously waiting for :
goodluckabella
superbella
rockabella
feelabella
balloonbella
mwahbella
cupcakeabella
savvyshoppabella
emmybella
veggiebella
flowahbella
and yertle... he's not a bella... but he's CUTE!
Yes I splurged :D I haven't ordered since my first order back for my b-day. Never mind that my birthday was just before Christmas! I did good :D I waited over a whole month before placing my second order. That took A LOT of self control on my part! I still have a ton on my wish list though, lol. Hopefully these new ladies will keep me busy for a few months while I save up more money for da bellas!