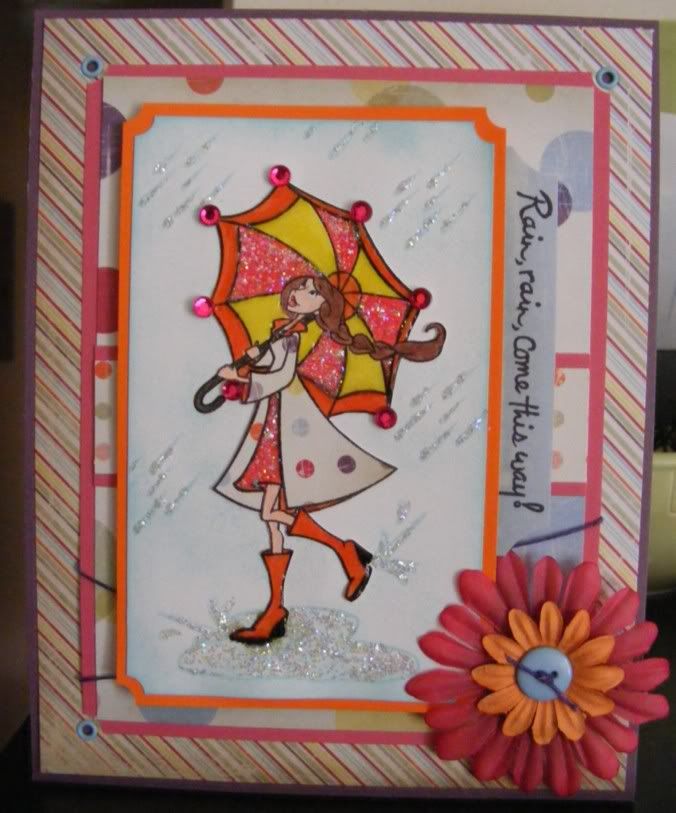 Papers : Cosmo Cricket storytime kit; hollyhock, orange, white, and smokey plum CS by CTMH
Stamps : Hanna Rain
Accents : Purple waxy flax, flowers (prima & heidi swapp), button (tres jolie), eyelets (MM), pink rhinestones, ice stickles crystal, liquid glass
This card turned out very different than I had it in my head. I wanted the colors on the Hanna to not come out so bright, mainly just the yellow in the umbrella, but it seems to have worked out alright. Liquid glass covering the umbrella and her boots though you can't really tell in the pick, it's very fun looking in RL. Glitter on her dress, the umbrella, rain, and puddle. I'm still debating whether or not to stick the little worm someplace. He is just too cute!! Lots of glitz on her image, I adore her outfit! I was going to try to do the DCM challenge that I saw on a SBS4 sister's site:
The last
DCM
challenge of the year is a team challenge : Hi All. Today we have decided to revisit your most favourite dares of 2007. The four top dares, decided by the number of comments you made on them are (in no particular order): 'buttons', 'ribbons', ...'and cut' and 'frames'. We would like you to use this week as many of those dares as you like to make your card in any theme and any style.
I got the cut part and I had a bunch of ribbons and buttons out to use but I just wasn't feeling it. I went back and forth then decided to just do this and try the challenge on another card :D There was already so much going on in the image that I didn't want to take away from that.
On another note, this is my 100th post!! I can't believe I've actually made a hundred posts so far! I just started this blog at the very end of August. I looked back at my first card posts and shuddered, lol. I've come a long way in just four months!! If you want to see what I'm talking about check my archives on the bottom right for August and Sept. I wasn't much of a card maker before, in fact I dreaded having to make cards up until this last October!! But now I love to make them! Amazing what browsing galleries and posting can do :D I'm hoping my Bellas come soon. I ordered them on the 9th but they ship from Canada so it may still take a little while to get here what with Christmas and all. I've been so anxious to play with them!!!