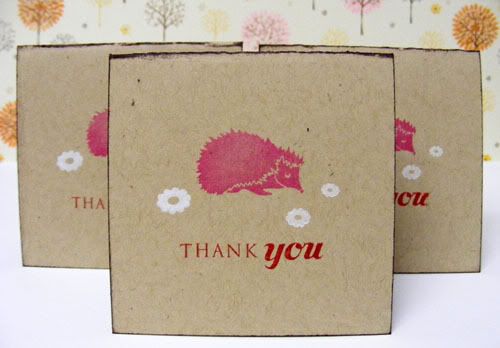 Supplies : Kraft cardstock, Raspberry Fizz and Pure Poppy Ink, Forest Friends and Cupcake Collection Stamp sets by Papertrey Ink; Cocoa and White Daisy Ink by CTMH
I wanted to include some little thank you notes with some scrappy goods I sold and since I was feeling in a Valentinesy mood I broke out the pink, red, and white ;) The skunk is my fav, but this little guy has really been growing on me! I think it's so fun to get even just a small note of thanks when you purchase something. The Quilted Works store gives us a little chocolate with a note and I thought how sweet! Oh I could spend hours in there looking at fabric and it's a small store. I think it's worse than the scrapstore now since I have a pretty good idea of what I want to work with when I go scrap shopping. But fabric shopping is so different, probably because it's newer to me, so I am just in awe at everything! I got a free pattern for the lantern bloom quilt and I'm slowly buying up my fabric since I love those colors, I wear them all the time ;) Because all I've made are baby quilts and I haven't machine quilted anything I'm making smaller projects to practice so that when I do get ready to make my pretty quilt, I'll be able to do it more confidently. Anyway back to the cards, these were super simple and quick, no layers just some fun stamping and I used the entire 8 1/2 x 11 kraft sheet in about 10 minutes. These are 3x3 and didn't use up the sheet completely so here's what I did with the scraps.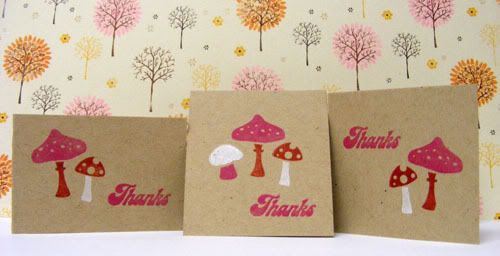 Supplies : Kraft cardstock, Raspberry Fizz and Pure Poppy Ink, and Forest Friends stamp set by Papertrey Ink; White Daisy Ink by CTMH
Since my goal is to whittle it down my scrap pile even though they were odd sizes I thought just finishing what I began and making more thank you notes would work with these bitty strip scraps I had left. I ended up with a long 2 1/2 x 11 strip and a 2 x 6 strip. I cut the long strip in half and then folded each card for two 2 1/2 x 2 3/4 cards and one 2 x 3 card. Just little babies ;) And they were so cute and tiny I couldn't help but put some cute and tiny toadstools on them. Since the sizes were funny I played a little with the placement to get three different looks using the same stamps and colors. Enjoy and have a happy Wednesday!