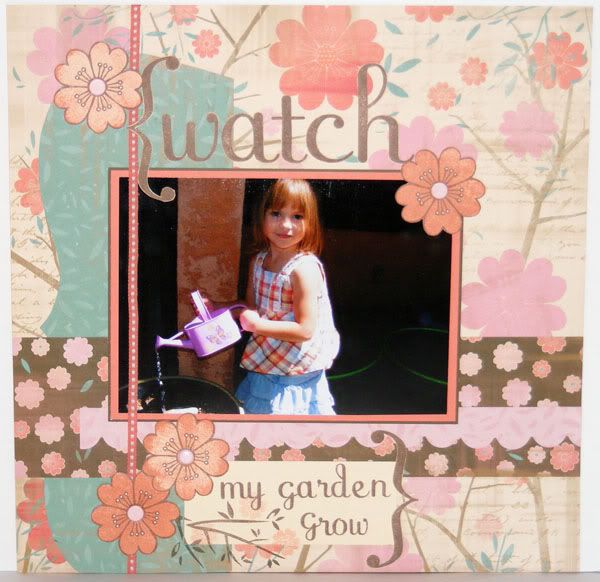 Supplies : Unforgetable Paper, Cardstock, Ribbon, Nail Heads, Aspiration, Chocolate Large alpha, and Chocolate alpha stamp sets by CTMH
I created this layout for the #5 IB sketch. I am loving these papers and stamps! They are so pretty and went perfectly with a lot of the summer pictures I took (yes I know they are spring papers, but they match my summer ones, lol). I experimented with the flower doing both solid stamping and then using the second generation with the stamp rolling method. Both look wonderful! I used my white gel pen to white out the little flower dots to give the flowers a little more pop.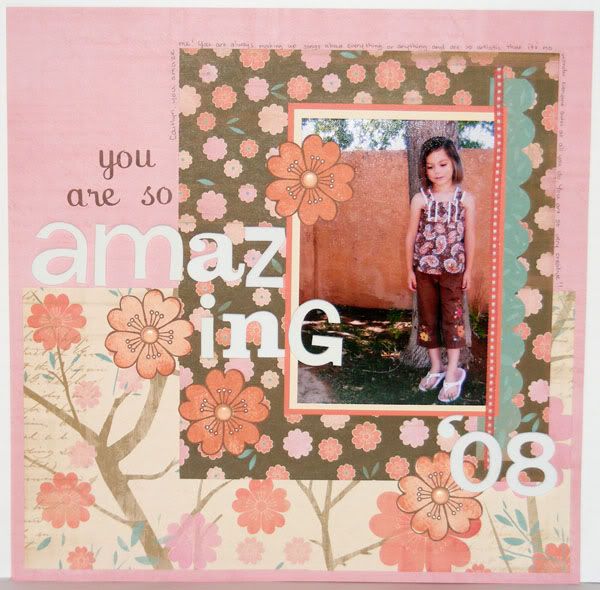 Supplies : Unforgetable Paper, Cardstock, Ribbon, Chocolate and Aspiration stamp sets by CTMH; Thickers letter stickers by American Crafts

Another layout using these new Spring papers and stamps! This was one of my favorite pictures out of the ones Caitie posed for. I'm not sure why really, she just has this sweet and shy look on her face that I found stunning. I also LOVE this outfit. The journaling is about how amazing I think she is and some of the awesome things she does like making up songs (words AND tunes) for everything. Like if she has to get dressed in a certain outfit she'll make up a song about it or about what she is doing or a movie she saw... I love hearing all the funny stuff she comes up with! Anyway, more to come with these papers and stamps! Thanks for visiting!!