Let it snow, let it snow!! We have had some fun snow the past couple days and yesterday morning we had gotten enough the night before for it to actually stick :D The girls LOVED it!! It's rare for us to get more than a single day of snow here so they even had a snow day Thursday, lol. Cait doesn't go to school on Thrusday so it didn't make any difference to her, but a lot of my friend's kids were totally ecstatic!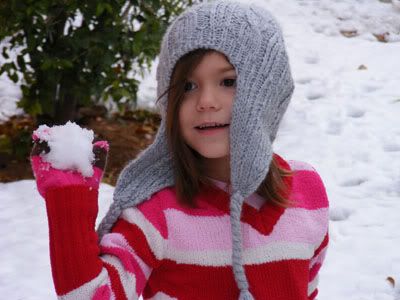 Cait and Audrey got to play in the snow for a while. Aren't they too cute!!! I wish Cait had kept her scarf on at least long enough for the pics, she looked so darling! Audrey took hers off shortly after as well, but I had gotten a couple shots before she did. My camera was wrapped in a scarf to protect it from the melting snow off all the trees in front of our apartment, lol. We had so much fun and then came in when the girls' hands got too cold for some hot cocoa with marshmallows and soft peppermint sticks. What a fun day we had yesterday!
I didn't have a chance to play in the bella challenges this week. It is crunch time for us to finish up some last minute Christmas treats, mostly cookies and shortbread. Remember these fun little candy cane reindeer? I used to make these in gradeschool and thought Cait would love making them for the treats she wants to give today at school. We used glue dots instead of a glue gun like we did when I was little. And it is A LOT easier, let me tell you, lol. Cait put on a couple of the noses but mostly just delegated - "Mom put the eyeball here" "Mom, nose goes here" "Mom, fix the horns please" or Audrey's matter-of-factly "It's dead. The reindeer is dead. Eyeballs are gone, oh no," about the candycane I forgot to put eyes on and was just laying on the floor with antlers, lol. We've been having a lot of fun this past week!! And today is my birthday so I get to have extra fun along with no cleaning or cooking, yay! Anyway, I hope you all have a fabulous Friday!! Thanks for stopping by!