Supplies : Paper - Scenic Route and My Minds Eye; Cardstock and Classmate stamp set by CTMH; Thickers by American Crafts; Rhinestones; Marvy Snowflake punch
I used the #10 Inspired Blueprints sketch to start me off on this layout since I had this great 5x7 of the girls. This is actually the right page of the layout. I loved that they posed for pictures this last Christmas eve and I hope they continue to do so :D The faces they made on the bottom right picture crack me up and it's become the norm for them to make silly faces for the camera before I can get smiling ones. For the title I did something fun that I haven't done in quite a while but have been seeing more of lately. First I stamped the letters I needed and then I simply cut them out and arranged them on the layout. You can also print your letters with your computer if you like using different fonts. I haven't seen it on layouts in a while but I have been seeing this more and more on cards. It's a great way to create a longer title without having to use stickers or risk stamping directly on the layout which I tend to always mess up on.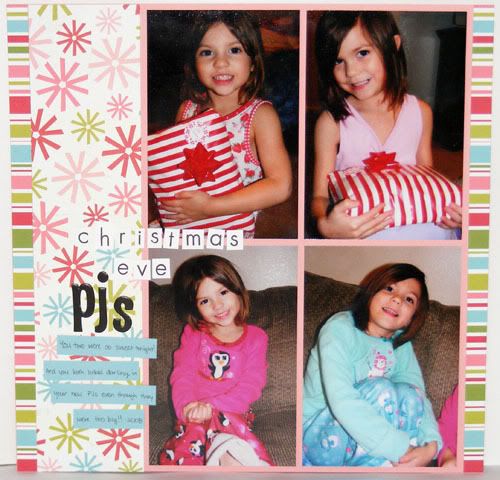 Here is the left page. I wanted to make a page that showed the girls with their presents and then wearing their presents so I put the pictures of them holding their wrapped jammies on the top half of the photo collage and then put the pictures of them wearing their jammies right below each girl for the bottom half. I started the title just above the pajama pictures to help the layout with that before and after separation. We started that tradition this last year, but I'm pretty sure it's one we are going to keep and I'm hoping to extend it to both Paul and I this year. Caitlyn actually wears the hot pink penguin jammies now and Audrey has another pair of light pink penguin jammies we bought her after the holiday since we had gotten the sizes too big. Their penguin jammies are both their favorites and it's funny to me that even though these are winter pjs, the girls still wear them more than any others even in this summer weather. Anyway, have a wonderful Wednesday and thanks for stopping by!