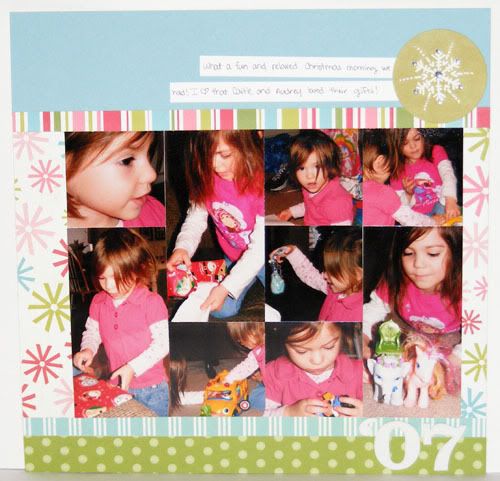 Supplies : Paper - Scenic Route; Cardstock - CTMH; Thickers - American Crafts; Rhinestones; Snowflake Circle Accessory - My Minds Eye; Stickles
I caught a bug to do some winter layouts early last week which is great because I have a ton of Christmas and winter pictures and I have a whole lot of winter paper to boot. These pictures are from 2007 and I realized after pulling them out that I am terrible when it comes to holiday pictures. Not only do I have a hard time getting good pictures but I also take and print a ton! I really need to learn to streamline my printing better. Anyway, since I had all these pictures I thought I may as well try to scrap them and I choose to do a couple tight collages to fit all these photos. There are 17 pictures between the two pages, this one holding the bigger portion of 9. This is also the right side of the 2 page layout but I put it up first since the collage is a little more interesting. I mixed the up picture sizes between 2.5 x 2.5 and 2.5 x 5 which gave me more leeway with some of the photos. While most of them aren't great I didn't want to chop them all up into tiny pics.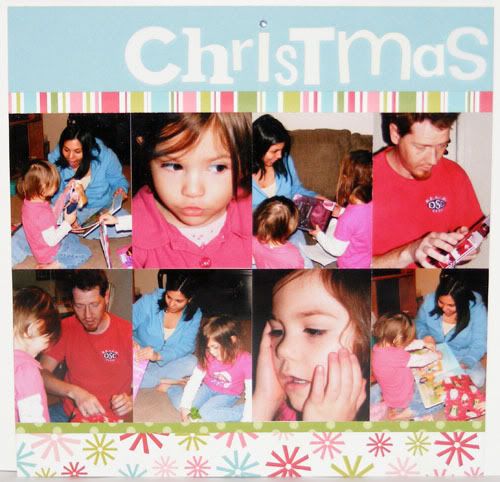 Here is the left side of the layout, a much simpler and quicker page. I cut all the photos to 3x4 and fit them in two neat rows with some pattern paper to top it off. This page went together in minutes and was perfect for a simple showcase of some of the closer shots we got. I was really surprised that we had more than one picture of me. Usually I forget to have my picture taken and end up with none of me especially on holidays. I'm really happy that Paul got a few of me in there :D Now if I can just remember to have him take pictures more often, lol. Anyway, I hope you enjoy the pages and have a happy Monday!