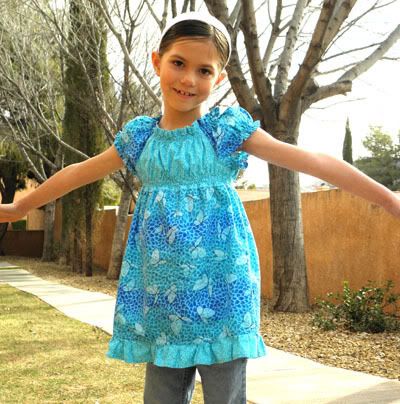 My first sewn top! C has been growing out of her clothes like crazy and it seems a lot of the stores around here just don't have that many cute tops in right now, probably because we're still a little in-between seasons. Not quite spring, not really winter anymore (at least not here). We've gotten a couple of darling tees for her, but as for pretty blouses, we haven't found many that she really loves. This last month I picked up a few remnants at Joann's for less than $10 total. I not only cut out enough fabric for a dress (which I haven't sewn together yet), but also enough for this cute tunic!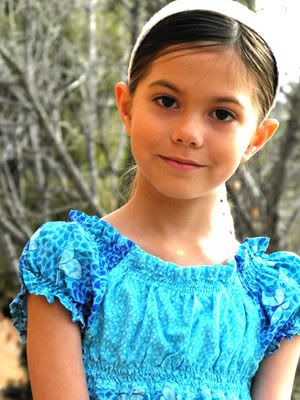 I used the peasant top variation in the Portabellopixie pattern "Claire", which actually uses up quite a bit of fabric. Because my last size up with her patterns worked so well I did it again here, using a size 8 for C even though she's a size 7. This way she can wear it next spring as well.... hopefully, lol. She's the one who spotted the fabric while we were perusing the bin, and I love these shades of blue! Luckily there was this cute mini flower print and a blue matching solid as well that I snagged at the same time. Someone's must be making a darling project and I just happened to benefit from the end of bolt scraps!
Since the back looks very much like the front, I used a pretty ribbon for the inside tag and wrote the size and my initials beneath so C could easily tell which side was front and back, and so later with hand-me-downs we have the size number for reference. Both C and I were so excited when the top was finished. This was my first time shirring so I was a bit nervous, but it turned out to be so easy and fun! I definitely looking forward to seeing how her dress will turn out ;) Enjoy and have a lovely Sunday!