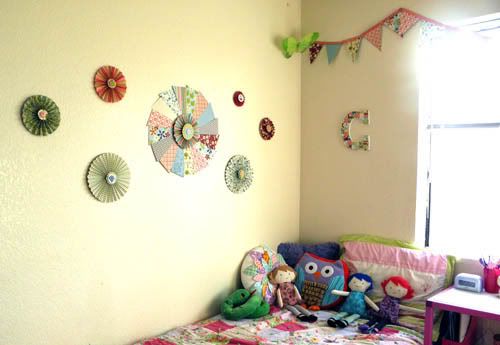 Every so often I feel a little rebellious when it comes to doing my homework. Not so much that I won't do it at all, but that I'll do a whole lot of other things just to avoid doing the homework for as long as possible. This weekend, after 4 tests between Thursday and Friday, I was happy to note that the only weekend school work I had was some reading with a one page reader response. But instead of getting it done and out of the way, I somehow got it in my head that I didn't want to do it, which is silly since I found the articles fairly interesting when I finally did get around to reading them. Anyhoo, I decided to kind of redecorate my girls' room instead ;) Here are some fun photos of what we did.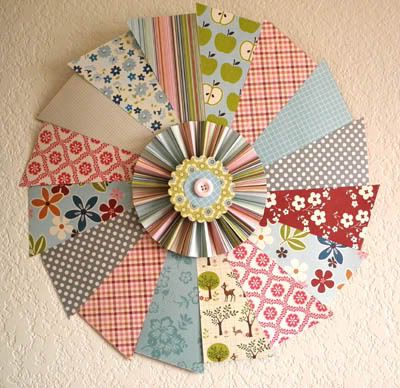 The first item was the pendant banner which you see a part of in the photo at the top of the post. It was too hard to get a decent photo with the light coming into the room, so I ended up not getting a photo of the banner itself. From there I went a little batty with paper crafting decor in their room ;) I made this big "flower" as C puts it out of the funny end pieces from the banner triangles. I love the quiltish look of it. Then I made the fun circle paper fans or whatever it is that they're called to match. C calls them "daisies, because they have lots of petals," she says ;)

After that I couldn't leave their wooden letters out. For more over a year I've been telling myself I'd paint these white letters and just never got around to it. Friday, I sat down and cute 1" squares from scraps and covered the letters.
Here is A's fans. Since I only had enough leftovers from the pendant banner to make one large quilty flower thing, I made her more "daisies".
And I couldn't stop there. A while ago I saw a darling scrap page that used these Girl Friday paper letters from Cosmo Cricket. I happened to have scraps of the same alphabet and hoped I had enough to make some alpha art. As it turned out, I didn't have any Es or Rs. But I did have 2 matching Fs and a P and X that were the same pattern. So I fashioned my missing letters out of them. I put together the cute alphabet to fit a 8x10 frame, the girls singing the ABCs about 2 dozen times while I made it. The frame is one that I simply repurposed. It's been sitting in our closet with Paul's AS degree. So I put his in another repurposed frame (which had old pictures) and took this one for their room.

In addition to that frame I took the two 5x7 frames I had bought to go with it, but were still empty to this day. Using scraps and some fun stickers, I made some sweet papercrafted art to with everything. The left one says "Dream Big Dreams" and the sheep with balloons says "Shy girls are sweet girls". The shy one definitely describes little A ;)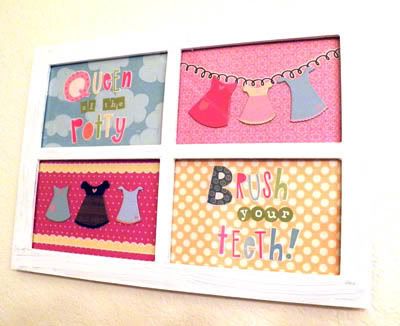 I also made a quick little fun piece for their bathroom, which has been artless for quite a while. The colors match their little circo cups and towels. A big part of this piece was to use up some of the extra single letters I had left, since with the two other framed art pieces for their room, I had used up all the vowels. In this case, the extra Q and B were used.
And last but not least (and before I made the bathroom art actually) I made a fun magnet for C's hot lunch menu from school. My cheapy, but super cute, kitchen magnets aren't very strong so it takes about 4 of them to hold up the menu. So, when I saw that a few of my odd left over letters spelled out lunch, I just had to make a fun magnet! The other two words were 'big' and 'shy', then there were a string of odd consonants. Anyway, I did finish my homework, Sunday morning before I went to a friends house to crop (yay!) I hope you enjoyed this little peek into the girls newly decorated room. Thanks for popping by!