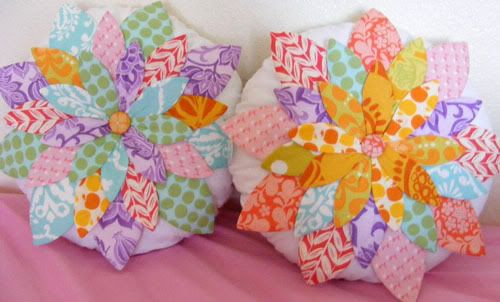 Those rainbow gumdrops gave me a wonderful idea to do the same kind of rainbow design with
Amy's Zinnia Pillow
. I have been staring at this pattern, wanting to make it, being intimidated by it, and coveting the day I would actually make one for myself (note that this day still has not come since these are for my daughters and not for me). As for the camera strap cover, it will have to wait. But I did manage to get the strap on my camera just for safety sake and Audrey has been loving taking pictures, which is great because I really haven't been doing much of that this month!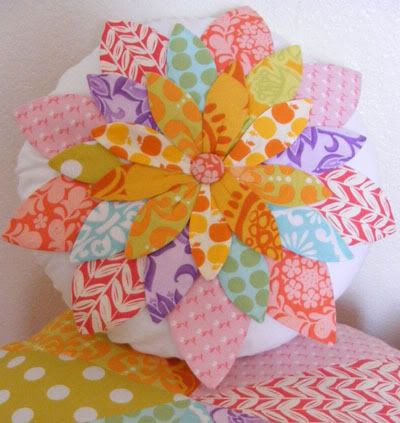 This has by far got to be the most cutting intense project I've done! Each pillow has 27 petals and each petal has 3 parts - front, back, and interfacing. For two pillows that was 162 petals to cut! Though I did get to cut the backs 4 at a time since I simply used white for that, the rest were cut individually (I'm certain there must be a faster way - I'm just not that advanced to have figured it out yet, lol.) These pillows took me 3 days to make which is quite the accomplishment because for me if I don't get something done in one sitting, it usually doesn't get done at all. The first evening I pressed and cut all my petals. And then the next day I sewed them together then turned them while watching a movie, and finished pressing them before hitting the hay. The next evening I assembled the final pillows.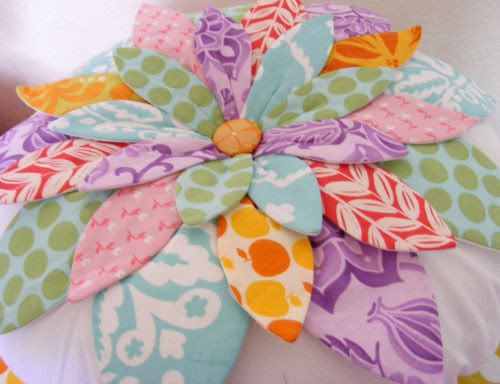 The finished result - darling Rainbow Zinnia Pillows! I heart them so very much and yes even though they were a lot of work I'm still planning on making one for me out of the lantern bloom fabric which will go very much faster I'm sure. I did a lot of new things with these pillows - my first circle pillow, covered buttons, pleats, and first pillow tufting (I am so glad I got that long doll needle!) I am wondering though if I should make the smaller 14" pillow which is what these are or to make the bigger pillow which is a whopping 24". The smaller size is a perfect little accent pillow so I'm debating whether the big one would be all the more fabulous or become the huge flower pillow of doom. Anyway, I hope you enjoyed. Thanks for visiting and have a lovely weekend!