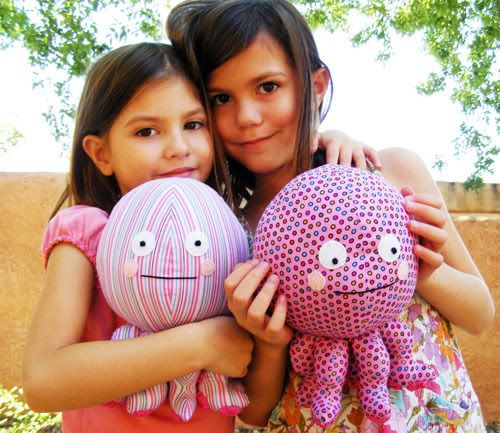 We've recently adopted a couple octopi.






Oh, looks like they found some mushrooms on our lawn!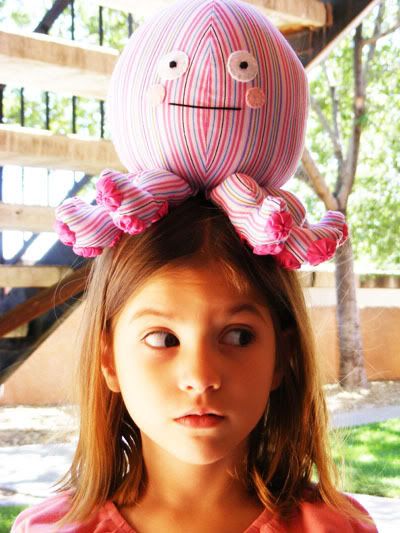 Watch out! These guys like to hitch rides.
The
Moda Bake Shop
releases a fun free tutorial every week and
Oopsie the Octopus
came out a couple weeks ago. Last week was the Octopus Garden Activity at our Library so the girls got big into octopi. We have their darling painted paper plate octopus crafts hanging up in their room, so fun! And when I saw this tutorial this past week I thought Oopsie was just too cute to not make, so I made two! Besides, after finishing the Ever After page I was itching to sew something fabulous!
Of course I added my own flair ;) Our faces are different, though I did use the pattern's eyes and cheeks. And I opted to go crazy and make sucker charms for the entire legs instead of just one on the tip. How crazy?... 64 fabric yoyos cut, hand-made, then hand stitched to the octopi crazy. But you don't have to do that, I'm just nutty and thought it would be awesome to have octopi with full sucker charm rows! Total time for the tutorial version, about 2 1/2 hours for one octopus. And I still consider myself a beginner (Hey, I just learned this past month I've been putting my bobbin in the wrong way this whole time!) You don't really want to know how much longer it took me to add on all those other suckers, lol.
And if you're wondering why my suckers don't much look like fabric yoyos I can't say for certain since I've never really made any before, but I think part of it is because of the fabric. It's not cotton, it's some weird swimsuit-pleather-heavy knit kind of stuff. A little slicky and a little sticky, perfect for octopi sucker charms! Of course it could also be that I failed that bad at making decent looking yo-yos but for this project I say that's a plus ;) Enjoy and if you want to make your own irrestibly cute Oopsie here's a
link to the tutorial at Moda
! Go all the way down to the bottom and click the printer friendly version if you want the PDF. I simply printed the last page (the pattern) then read the tutorial on my computer. Have a fabulous weekend!