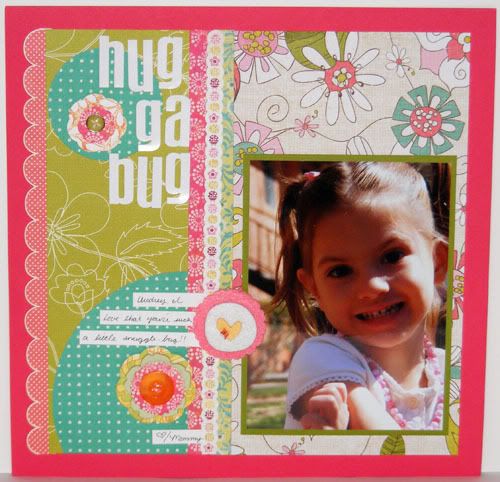 I'm starting to bring in some other scraps now to try and use up the most of these papers. The cute main print on the right is the other side of that green crate paper. I used this side on the Sweet Bubbly layout as well which is funny because when I bought it I was for sure that I would only use the green side. I didn't much like the floral when I first picked it up but I guess now that it's lived in my stash a couple months I've changed my mind, hehe. I love that about double sided papers ;)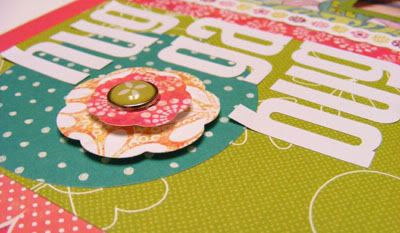 This layout was inspired by one in the Studio Calico designer's gallery. They have such gorgeous kits. I think if I ever end up subscribing to a kit system it would be theirs, but I'm not planning on doing that anytime soon. I really want to get my stash waaayyy down first. It's hard when I want to go out and see what's new in the stores. I have to just not look otherwise I end up picking up stuff.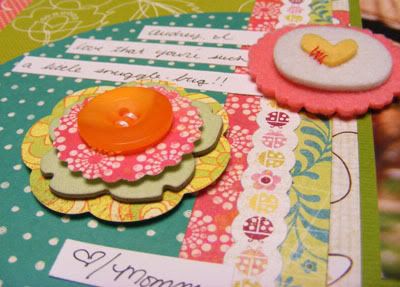 I love how A was sort of hugging herself in this pic. She is my little huggabug and I adore it. Of course she's getting quite heavy now so when she wants me to carry her I pretend I can't hold her for long and slowly droop, droop, droop her back down to the ground. She lifts up her feet and giggles so I have to go even lower to get her to the floor ;) It makes her laugh that she's getting 'too heavy'. Thanks for visiting and I hope you have a wonderful Monday!
Paper Doll Collection paper by Crate Paper
Green at Heart, Lime Rickey, and Urban Prairie paper by Basic Grey
Green floral and Blue dots paper by Scenic Route
American Crafts Cardstock
Lemonade Ladybug border by Basic Grey
Dear Lizzy Details by American Crafts
Scallop Border Sticker by Echo Park Paper Co.
Fieldhouse Flocked Boutique by American Crafts
Remarks Letter stickers by American Crafts
Lush Decorative Brad in Green by My Minds Eye
Orange Zest Button by Papertrey Ink