I usually buy new papers and then wait forever until I use them. The reason? Nothing more than thinking I have to use more of my old papers first. This last month I have been really working hard to break out of that habit and use my new papers as soon as I can after getting them. After all, I bought them because I was inspired and it's easier to carry on that inspiration rather than tuck it away and try to get it to come out again later.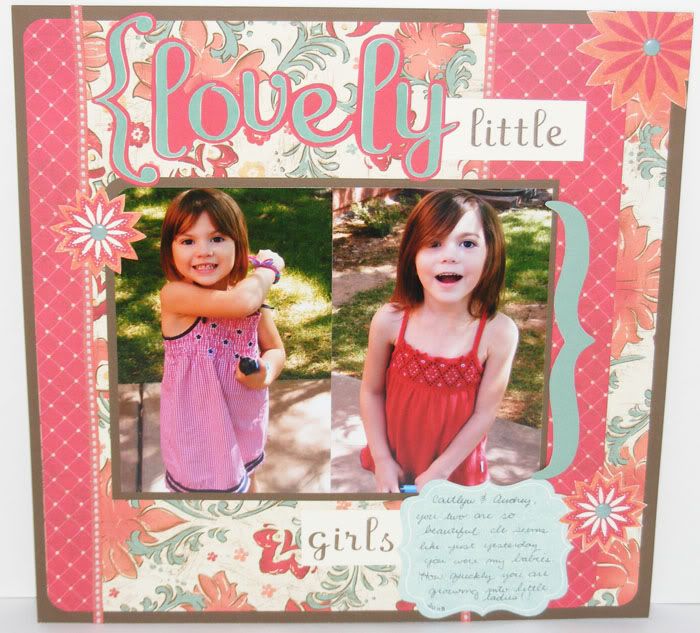 Supplies: Perfect Day Paper Pack, Sorbet Ribbon Collection, Chocolate Large Alpha, Chocolate Alpha, and Gratitude Stamp Sets by CTMH; Chipboard Bracket by Scenic Route; Journaling Prompt by My Minds Eye; and Big Brads by American Crafts
This is the first page I created. The page is inspired by a layout design in the recent Scrapbooks Etc. I was watching my friend's daughter flip through the magazine and caught a quick glance at a Braid page. Without seeing it again for reference I just started putting the layout together using what I recalled of the basic design.
Supplies: Perfect Day Paper Pack, Sorbet Ribbon Collection, Chocolate Large Alpha, Chocolate Alpha, Sans Small Alpha, Classmate Alpha, and Gratitude Stamp Sets by CTMH; Chipboard Bracket by Scenic Route; Journaling Prompt by My Minds Eye; and Big Brads by American Crafts
Did you notice something about this page? The base of the layout is exactly the same as the top layout only flipped horizontally. I wanted these two pages to be together in the album but was feeling like just scrapping single page layouts and really had no clue on how to do a second coordinating page. So I copied the first page. This will actually be the lefthand layout. The placing of the photos and different use of titles and journaling make each page different but they coordinate great as I used the same fonts, elements, and base design in each. Anyway, hoping you all have a wonderful Thursday! Thanks for stopping by ^_~