I finally decided to try and scrap some of the Halloween/not Halloween pictures from last year (I'm that far behind, farther actually : Feb 2006 :S). Now the story behind our Halloween last year was this. Early in the month we found costumes for the girls and were so excited for them to wear them near Halloween that we were devastated when that week both the girls and I caught a really nasty stomach bug. Needless to say we didn't get to go out at all during the week surrounding Halloween. So to make up for it after we were all better I had the girls get dressed up in their costumes and did a photo shoot. They also got chocolates afterward when we were sure their tummies could hold down the goodies :D. Here are two of the pages I scrapped of Audrey in her little witch costume.
Colors : Autumn Terracota, Smokey Plum, Garden Green, Pansy Purple, Black, Col.White
Papers : Enchanted PP ('07), Black CS, Autumn Terracota CS, Smokey Plum CS, Pansy Purple CS, Garden Green CS, Col White CS, Grey Wool CS
Stamps : Contempo Caps, Believe Caps and Lowercase, Sans small lowercase, Playful Flourishes, Simple Stitches
Inks : Garden Green, Sunflower, Autumn Terracota, Black, Smokey Plum
Accents : Black spiral, Autumn Terracota buttons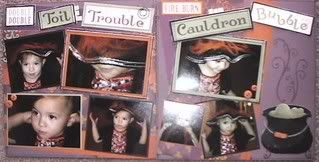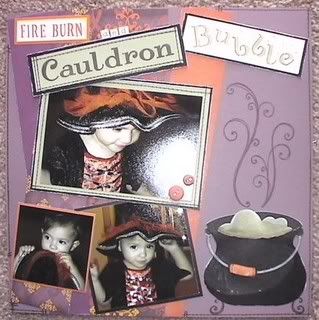 The cauldron I drew and cut out on black cardstock then sanded and colored to make the shadow with the black marker. It probably took longer to do that cauldron than both the pages put together, lol. The handle is grey wool cardstock distressed with gray wool ink. I used my oval coluzzle for a guide. A circle punch was used for where the handle connects to the cauldron and sanded autumn terracota cardstock was for the wooden piece on the handle. The legs and steam are from the flourish stamp. The page design is my own. I also did some fun doodling on the words trouble and bubble.