Scrappy Scraps :
So the past few days I've been really getting into using those paper flowers. I've made a some really pretty pages that I adore, but last night I went with something that's more my style. I love doing simple pages and using my stamps as the embellishment. This one was done using Imagine's Dynamic Duo template.
Colors :
Lilac Mist, Spring Iris, Garden Green, Buttercup, White Daisy
Papers :
Lazy Days PP ('06), Spring Iris CS, Lilac Mist CS, Buttercup CS, White CS
Stamps :
Free Spirit
Inks :
Spring Iris
Accents :
Chipboard Alphas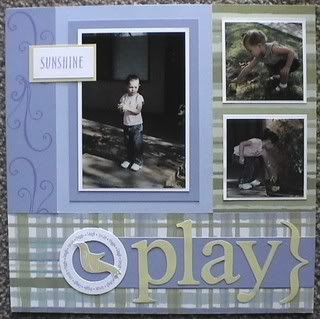 I used chipboard tracings for the letters for play and the brackets. I was going to put the yellow on the chipboard but decided to just glue it on as just cardstock and save the chipboard for another page :D. I like the way it turned out and I didn't even use any embellishments! It still took me nearly two hours though, mostly because of cutting out stuff and I stamped five other birds and cut them out before realizing the page didn't need them and looked too busy with them on it.