Scrappy Scraps :
Well either my trying to get inspiration through doing smaller projects worked or I just broke through my scrapper's block coincidentally right after making cards. These were actually done last night, I was on such a roll that I was up until 2:30am finishing the Sisters page. Of course the last half hour of that was spent cleaning up my gargantuous mess!! I think the level 1 kit helped too. It's so much easier to scrapbook when you don't have to think about the layout and it's already provided for you! I don't know why I almost never buy them lol, because I love them so much and they make scrapping so much easier! So here is my level one kit completed. It's the four preprinted layouts, stickease, cardstock and then some stamps to liven it up.
Colors : Bamboo, Crystal Blue, Desert Sand, Outdoor Denim, Cranberry
Papers : Majestic Blue Lvl 1 kit ('07), Col. White CS, Desert Sand CS, Outdoor Denim CS, Cranberry CS
Stamps : Paradise, Rustic Alpha, Storytime Caps
Inks : Desert Sand, Cranberry, Outdoor Denim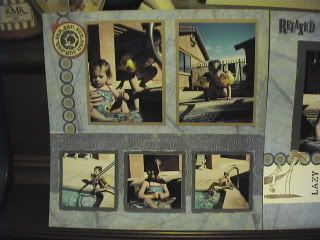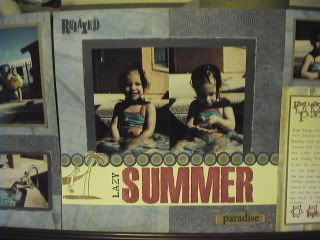 The really neat thing about these four pages is that it only took me about an hour and a half to do all four, that includes all the stamping and journalling! I've actually done a level one kit (four pages) in about a half an hour before with no stamping, just using the stickease. And yes, it says 'sharks' above the journalling on this page. Caitlyn absolutely refused to get all the way into the water because of 'sharks'. Even after trying to tell her that there are no sharks in the swimming pool she wasn't convinced and told us 'sharks are in water'. At least she's not taken that so far as to be afraid of getting in the tub!!
Colors : Heavenly Blue, Hollyhock, Garden Green Cocoa, White Daisy
Papers : Groovy Blossoms PP ('06), Autumn Garden B&T Pack ('07), Heavenly Blue CS, Cocoa CS, White CS
Stamps : Giggle Lowercase
Inks : Hollyhock, Garden Green (to color some of the flowers)
Accents : Just Blooms in White Daisy and Autumn Daisy, Flower rhinestones from spring '07 connections club reward, white daisy sequins from old white daisy accents tube, hollyhock brads and buttons, chipboard S and mini tag, white waxy flax
The template is Ensemble Piece on page 40 from Imagine and this was the first time I used my book aside from just looking through it lol.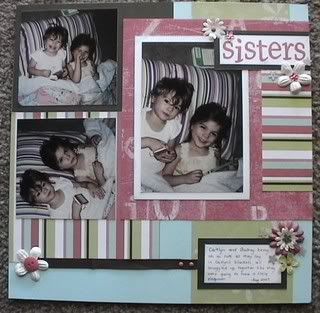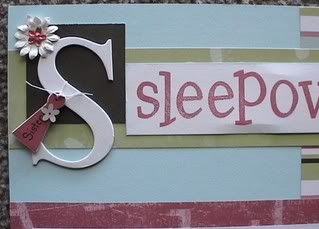 A close up of the title. I just love the chipboard S and the tag. In fact doing this page made me think about doing an alphabet album using the lowercase chipboard letters. It would be so cute!!
Mommy Scraps : So just this last week we had an interesting accident with the laundry. My dear hubby loves to keep a pen on him at all times and usually he's really good about making sure they don't go with his clothes into the hamper, and even on the occassion that they do I usually catch them before they end up in the wash. Such was not the case this last week, only it wasn't in the washer that the problem arose. Nope, his pen broke open in the dryer and ruined almost everything in there (he uses those ink flow pens). So this weekend we did a little clothes shopping, which was really nice since we rarely do so like this. I ended up getting a new pair of nice taupe/light chocolate trousers that work both great as dressy or casual, a few new tops, and two pairs of shoes (for fun). Now usually I only buy stuff that I won't care if it gets ruined because well let's face it, all clothes get ruined sooner or later. Instead I got pieces that yes, I really really liked and would be very sad if they did get destroyed. But you know, I feel so much better about myself in them. I feel more confident, I feel prettier, and more like a woman instead of just a mommy. As for my hubby, he was very happy to see me in clothing that consisting of something other than overworn t-shirts and loose fitting pants.