Scrappy Scraps :
Wow I feel really, really accomplished right now. With a total of 6 pages done adding up to 24 pictures scrapped I think I can officially say I was on a roll!
Colors :
Cranberry, Moonstruck, Clover Meadow, Sunflower, Col. White
Papers :
Route 66 Lvl 1 Kit ('07), Moonstruck CS, Cranberry CS, Col White CS
Stamps :
Solo A, Charmed Lowercase
Inks :
Clover Meadow, Cranberry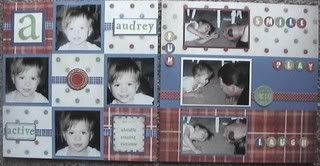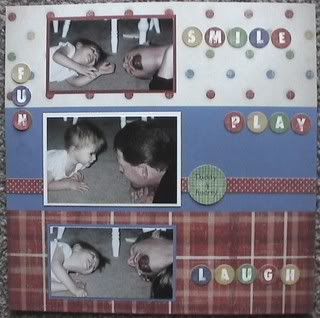 Colors : Hollyhock, Goldrush, Sweet leaf, Black
Papers : Wild Adventure PP ('05), Goldrush CS, Hollyhock CS, Sweet Leaf CS, Black CS, White CS
Stamps : In the Wild, Doodle Alpha, Solo T, Boutique Alpha, Rustic Alpha, Cobblestone Alpha
Inks : Black, Goldrush, Hollyhock
Accents : Hollyhock stripe ribbon, Hollyhock accents, Black brad, Chipboard mini tag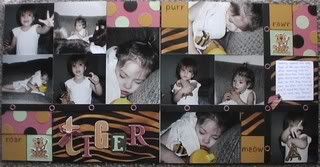 I almost never use black so this was a challenge for me as I love lighter color pages. And in the end I loved this layout. It's so bright and fun! The journalling talks about her Tiger and how she takes him everywhere with her, even to bed. These two took me all day since I had two little helpers, lol.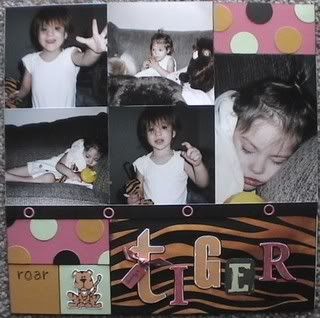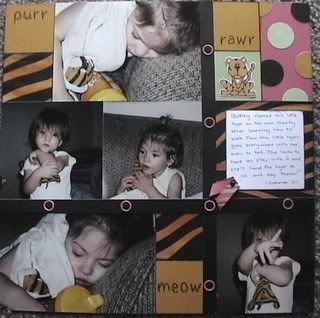 The palette was taken directly from the ribbon.. The tiger theme of course added the black and I was so happy that goldrush was nearly a perfect match to Tiger's coloring. I had to ink the zebra stripe paper to make it into tiger paper and punched out the circles from scraps to make the dot paper. Layout is from Cherish - Fabulous Fifteen.
Colors : Garden Green, Spring Iris, Lilac Mist, White Daisy, Olive?
Papers : Lazy Days ('06), Spring Iris CS, Lilac Mist CS, White Daisy CS, Garden Green CS
Stamps : Delight in Everything, Precious Alpha, Doodle Alpha
Inks : Spring Iris, Lilac Mist
Accents : Just Blooms White Daisy, white flower sequins, garden green brads, mini pastel flower brads (making memories), garden green organdy ribbon, chipboard F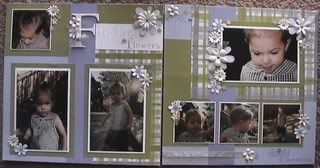 These two pages took me about 2 1/2 hours and are from Imagine, but the result is well worth the time because they turned out just beautiful. Flowers are line stamped in spring iris and solid stamped in lilac mist, cut out, then a strip of ribbon, paper flowers and finally a brad are added (for the big flowers). The smaller ones have a sequin on using a glue dot.
Life Scraps :
I think bandaids are catalysts for pain. So, I go to change out the water filter last night before going to bed so I don't have to do it first thing in the morning and as usual (for me) I damage myself trying to do this simple mundane chore. Aside from the banged elbow and kinked wrist, I cut my finger. And it was a decent cut, blood streaming out and everything. Now it was funny that it didn't hurt at all really. The cut felt warm but I'm assuming that's because of the blood, and other than that my finger was fine. I let it bleed for a minute then washed it off to check it and it really wasn't too bad. It had already stopped bleeding and the first thing that popped into my head was 'wow, I must have really good platelets.' Yes, I have random thoughts jump into my mind at weird times but the next thought was more urgent, 'I don't want to bleed on my nice white sheets'. So of course I get the neosporin and a bandaid to tend to my finger with and I swear not ten seconds after putting on that bandaide, my cut started searing. Not burning really, just 'ouch ouch ouch that hurts' kind of pain. Now I know the bandaide couldn't be on too tight because it actually felt a little loose. I have these skinny little fingers and if I'm not careful the sticky part of the bandaide will land on the cut, so I have to put it on a little looser because I definitely don't want to be pulling tape off any wound. Anyway, later that night the bandaid feels uncomfortable and I just think to myself that it's probably okay to take it off (for the sheets). Ten seconds later, my finger doesn't hurt anymore. Bandaides a catalyst for pain? I surely believe so :P.