Colors :
Hollyhock, Sunflower, Garden Green, Col. White
Paper :
From Me to You card kit (Sept. '07 promo)
Stamps :
From Me to You, For All Occassions
Inks :
Hollyhock, Sunflower, Garden Green
Accents :
Garden Green grosgrain ribbon and brads that came with the card kit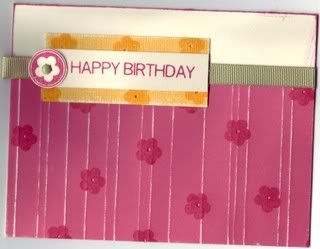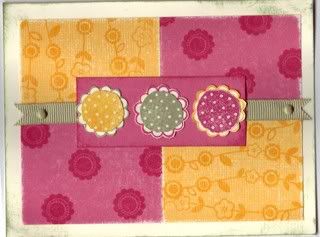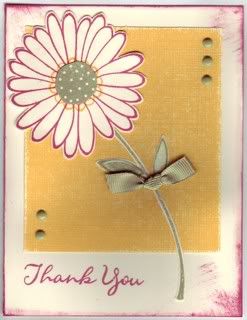 Sixteen cards from the kit. I basically followed the mini guide book for the card layouts but changed around some of the stamps used here and there and I also distressed all my cards. The longest and probably hardest part was cutting out all the flower pieces for all the cards, but I think the end results were worth it!
Life Scraps : So there is this really big rave about making a deck of cards. It has something to do with the 'art everyday' thing. I really haven't researched at all into it but from what I have seen it looks like a lot of fun. You make a card a day for 52 days using a deck of cards or just making your card the size of one. It's usually a descriptive word about you or something that happened that day and you essentially design a little card for the word and then journal on the back what it means or why you chose that word. At first I thought it was one card a week (hey even I can handle one a week!) because there are 52 weeks in a year and 52 cards in a deck. But the daily thing had me really thinking because we do things in our everyday lives that we don't scrap about. I'm not big on journalling (except in my scrapbooks) so this would not only be a challenge for me but would help me be creative on a daily basis instead of just 'whenever'. The problem with this is, I'll want make my cards about my girls since I spend all day with them instead of myself, and it's meant to be a self expression project (at least I think). Anyway, I might or might not start doing this. The biggest concern I have is what am I going to do with all those cards after I'm done!! They definitely aren't going to fit back into the box!