Supplies : Rustic White cardstock, Warm Happiness, 2008 Holiday Tags, and Everyday Classics stamp sets by PTI; Winter Cello Bags; Twirling Ribbon; Jingle Bells;
We have a pretty large extended family on Paul's side so instead of buying gifts for each person we do a Secret Santa where we each draw a name of someone else in the family. While that works wonderfully for us I like to try and make a little something for everyone that is inexpensive but still a fun treat to receive. I usually bake goodies but there are some instances where that isn't really feasible, like when mailing gifts (this is only because I'm ultra picky and want my treats to be received no later than a day after I bake them so they are as fresh and tasty as possible ;D ). So I made some fun gifty bags full of little goodies for the family members we mail out to. Using the same concept as the darling mug I posted yesterday I created a couple samplers, one tea and one hot cocoa. Each baggie has various flavors of tea or cocoa and then a bunch of fun chocolates like Irish Creme Kisses and Ghiradelli Peppermint Bark along with some candy canes to complete the set. One of those simple tags with the name of the recipient on the back along with a couple jingle bells finishes off the gift. I love making these because I get to share some of the little things I enjoy and they are easy to mass produce!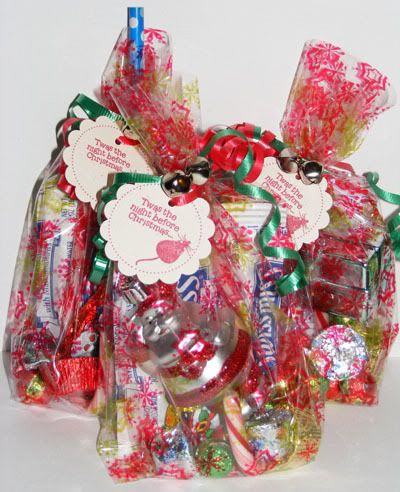 For all our nieces and nephews I made little stocking stuffer gifty bags whether they live near or far. I know the girls always feel extra special when another relative sends something just for them, so I wanted to do that for the kiddos in our family. Each baggie comes with a single serve pack of hot cocoa with marshmallows, a candy cane for stirring, and lots of fun chocolate goodies like the crispy rice santas and the funny chocolate christmas balls, all goodies my own kids love. This year I added one non-edible item that would be fun for them to use, the kiddos in school or starting school next year all got winter themed pencils with an eraser and the littler ones got a non-shatterable ornament to hang on their tree. One of my girls' favorite things to do is hang and rehang the ornaments on their trees so I thought that would be a fun thing for them to share with their cousins. And you'd be surprised just how much easier having a fun pencil makes convincing your Kindergartener to do their homework! I made ten of these little baggies and Caitlyn was so excited, especially since they are also doing stockings in her class right now. Everyday this week she has been asking about the stockings and the stocking gifts and when I'm doing the Christmas story and stockings in her class. This coming Monday I keep telling her but still she keeps asking, lol. So there's a little of what I'm doing this holiday season en masse for our big family ;D Thanks for visiting and have a fab Friday!