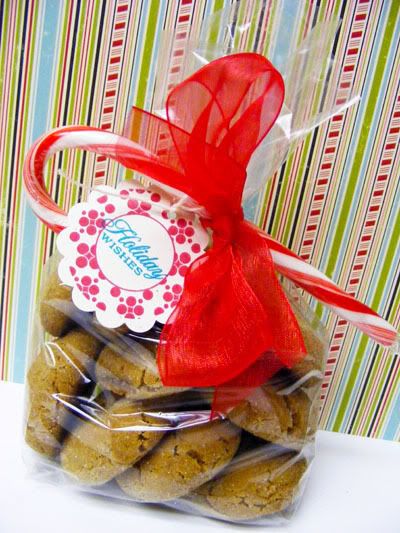 Paul had his last final Thursday - Yay! We invited a friend over for an easy going hang-out-to-celebrate eve and it was about midnight that night when I realized I hadn't baked the cookies I was planning to for Caitlyn's teacher yet. Tomorrow (or rather later that day) was the last day of school before Winter Break and I knew I wouldn't be up early enough in the morning to do the baking before school. Paul and Mark were still up for entertainment so they popped in a funny mocumentary called the Mighty Wind (same guy that did Spinal Tap and Best in Show). Inbetween the laughs (I absolutely LOVED Eugene Levy's character, he was too hilarious!) I baked up some of our favorite holiday ginger cookies because they are so easy to make, because they are delish, and because Cait's teacher is just too awesome to not bake cookies for. So at one in the morning I was finishing up baking a batch of these babies and after the movie I wrapped them up cute ;D For her teacher I used the last of my repurposing ribbon and one of the new tags I made a couple days ago. A simple candy dresses the plain cello bag up to look more holidayish since I ran out of the snowflake ones. I also wrapped up a couple more mini cookie bags for a couple of neighbors, one for Caitlyn's friend that comes over all the time. They don't go to the same school and she's actually in fifth grade which I suppose means she could be babysitting for me, lol. This is the first of much Holiday Baking to come. Most of it is planned for Monday and Tuesday because today is my B-day and I'm spending it out and about with my hubby and then being completely lazy ;) Hopefully lazy with a book because I've really been wanting some time to settle down and read.
And I can't remember if I shared it last year, but in case you missed it or you just want to try them here is the recipe for these Ginger Cuties.
Ingredients:
3/4 C butter flavored shortening
1 C brown sugar
1 egg
1/4 C molasses
2 1/4 C flour
2 tsp baking soda
1 tsp ground ginger
1 tsp ground cinnamon
1/2 tsp cloves
1/4 C sugar in a small shallow bowl or dish
Directions: Cream together shortening, brown sugar, egg and molasses until well blended. Add in flour and spices. Mix until combined with spoon. Now it's time to get your hands dirty ;) Knead the cookie dough until everything is well blended. Roll dough into 1 1/2"- 2" balls then roll in sugar and place on an ungreased cookie sheet. Bake at 350 for 8-10 minutes, just until the cookies crack on the top. Cool on cookie sheet 10 minutes before removing. Enjoy and have a fantastic weekend!