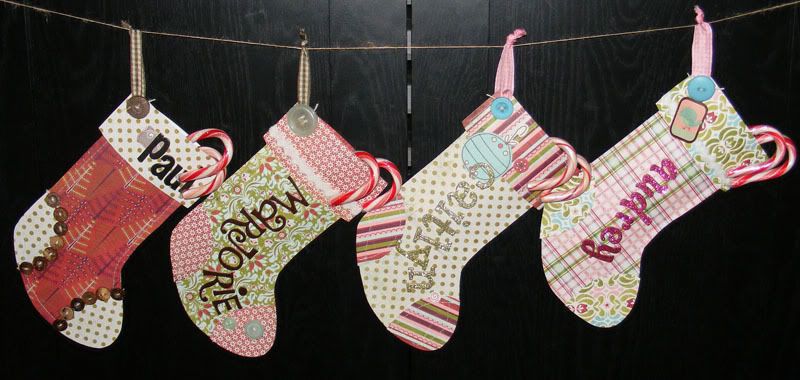 Supplies : Paper by Basic Grey; Buttons and Twine by Papertrey Ink; Thickers Letter Stickers by American Crafts; Ornament Stickers by Crate Paper; Bird Tag Sticker by Cosmo Cricket; White Velour Ricrac by May Arts; Brown Gingham Ribbon by CTMH; Pink Gingham Ribbon by Pebbles Inc.
This week on
Practical Scrappers
the designers were challenged to make paper crafted decor items. I love stockings but have yet to buy or make some for our family. I think I must be too picky because I never see any premade ones at the stores that I really like. So for now I used some of that darling Eskimo Kisses paper to create these mini 4" x 8" paper stockings, perfect for slipping in a few holiday treats, pencils, bookmarks, etc. I could totally go for these patterns in fabric ;) To make them was quite simple I drew a stocking shape and then cut out 2 pieces for each. Then I paper pieced the soles and cuff of the sock before sewing the whole thing together. I picked a different set of Thickers for each of our names and then embellished the stockings with stickers, ribbon, and buttons.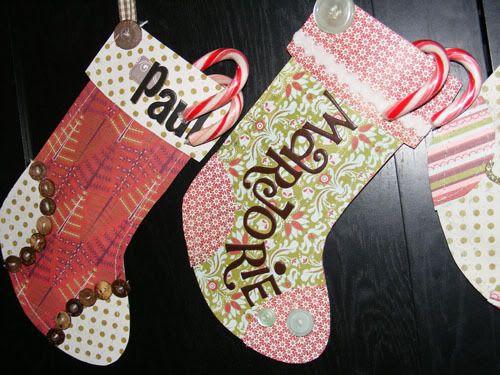 I wanted to keep Paul's stocking a bit more maculine so I stuck with the deeper reds and the green, both favorite colors of his. Instead of adding ribbon I used the twine to string the buttons together. I love the rustic look it gave his stocking. The dot paper is actually one of my last sheets of Figgy Pudding paper and it coordinated quite well with the new set. For my stocking I picked my favorite patterns then added just a trim of the ricrac and some buttons to finish it off. The velour ricrac is so fun and fuzzy, when I actually get around to making or altering some fabric stockings I'll have to find more of this stuff ;)
With the girls stockings I used some of the pinker patterns, especially on Audrey's and of course I had to use some glitter Thickers. I had actually tried putting Caitlyn's name across the cuff but it didn't fit and when I moved the letters some of the paper ripped. So to fix my mistake I added some of these fun stickers. And after adding stickers on Cait's I couldn't not put a little sticker on Audrey's. This little bird tag fit her so perfectly. Enjoy the stockings and stop by
Practical Scrappers
to see the other decor items! Have a terrific Thursday!