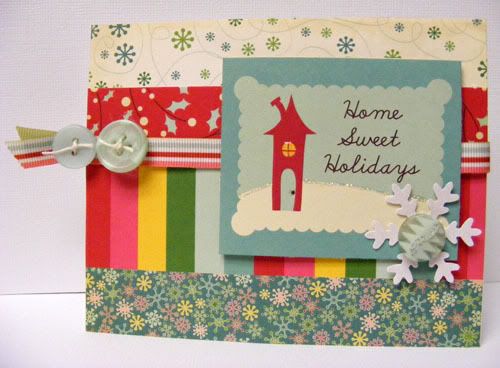 Supplies : Paper and Elements by Cosmo Cricket; Ribbon by We R Memory Keepers; Buttons and Twine by Papertrey Ink; stickles and liquid glass
Simple and sweet, that's how I'm feeling about the season this year. With our family growing so fast, this last year we gained 2 nieces and a nephew and are expecting two more (one for sure a nephew) this next year I'm finding myself drawn to keeping my crafting more simple especially when it comes to the holidays! Time to create is so difficult to carve out no matter how much I want to right now so when I do create I want to be able to finish a project in lickety-split time.
Practical Scrappers
is doing all Christmas goodies this month so I took 5 minutes to whip together this card. Cute, sweet, and simple! I added some stickles to the snow and liquid glass to the window to add just a little something special. An added shortcut was to use part of the sample sheet from the Cosmo Cricket craft pack as the card base. All the patterns were already striped and all I had to add was embellishments! The girls and I have been having a lot of fun getting our home and gifts ready for Christmas. So much so that when Mich popped on by the other day she said it looked like our place had 'exploded with Christmas'. You can tell you're having fun with the holidays when your house has exploded with it, lol! Enjoy the card and have a fabulous Friday!