Supplies : Pattern Paper by My Minds Eye; Cardstock, Ink, and mini brads by CTMH; Big Brads by American Crafts; Ribbon and Snowfall Additions stamp set by Papertrey Ink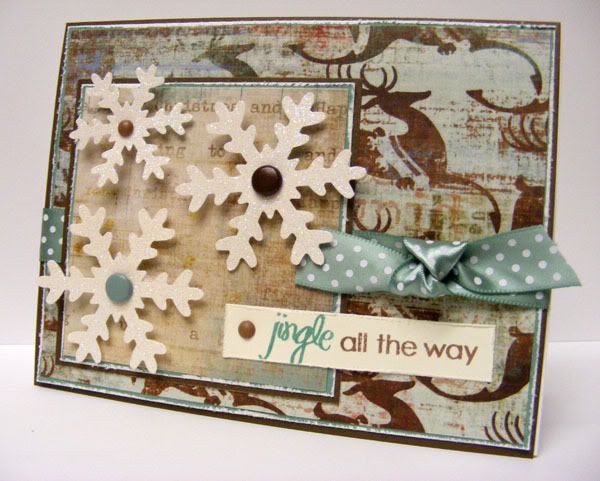 Though I missed posting my cards last week for
Sparkle's Christmas Card Challenge
, I did have some made. These were the ones I created this week. I really loved the pretty icy blue and dark chocolate in the reindeer paper. The week before I had a really hard time trying to use this line of papers, but this time I didn't have any trouble at all. The reindeers inspired the sentiment and the glittery snowflakes were an easy way to fill the space instead of an image. The snowflakes are also on pop dots giving them added dimension and if you look closely you'll notice the pattern they are on is a music themed paper, perfect to go along with the Jingle Bell song theme.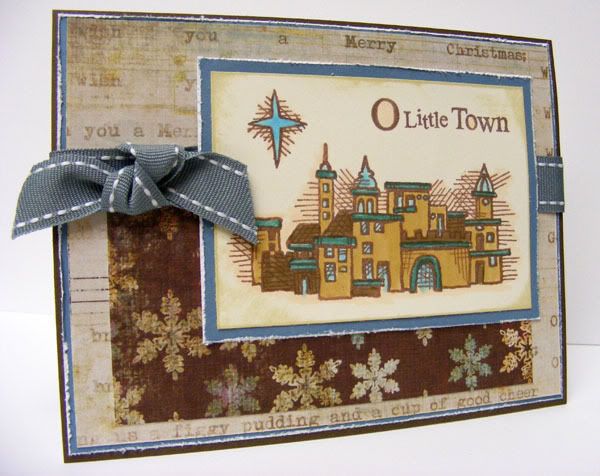 Supplies : Pattern Paper by My Minds Eye; Cardstock, Ink, Markers, and Bethlehem Stamp Set by CTMH; Ribbon by Papertrey Ink; Brads by American Crafts
These cards were the ones I made last week. I was using another Christmas music theme - "O little town of Bethlehem". I don't think they are as cute as the ones I had made this week with the same line of papers, but that was probably because I wasn't quite in the mood to be using these colors then. I had just spent the last few days spring cleaning my craft stuff before making these and when it came to create the practicality of using up my older papers outwayed my inspiration to use brighter colors for spring. Either way my SIL said they were really pretty so I know the recipients of these will enjoy them and that's what really matters :D Anyhoo, don't forget to check out
Sparkle's Blog
for the challenge and have a lovely Sunday!