Supplies : Pattern paper by Bo Bunny, Scenic Route, and Making Memories; Blue CS by Bazzill; Tabs by My Minds Eye; Tulip Cardstock, Ink, Friendship and Sans Small Alpha stamp sets by CTMH; pink staples

I totally spaced the Christmas Card Challenge last week! So today I decided to make the challenge cards and the cards for last week. I'm sharing the ones I needed to catch up on today :D Recognize some of the papers? Last week I used these Valentine Bo Bunny papers to make
this layout
. The last scrap was just enough to make two 4.25 square cards. The paper for the trunk of the trees was also scrap from one of my layouts that week as well :D I love how you can make Christmas cards out of almost any paper!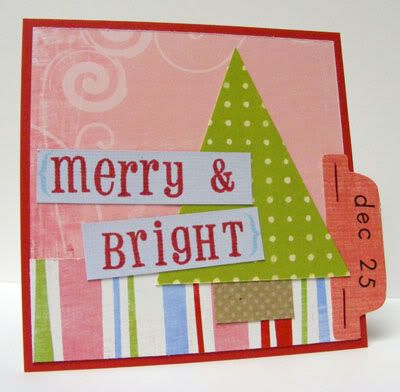 These were so simple and easy to make, plus they are flat! Here's the link to
Sparkle's post
last week for the Christmas Card Challenge in case you missed it. The theme this week is 'Time' :D Anyway, I hope you've all been having a great week! Thanks for visiting!