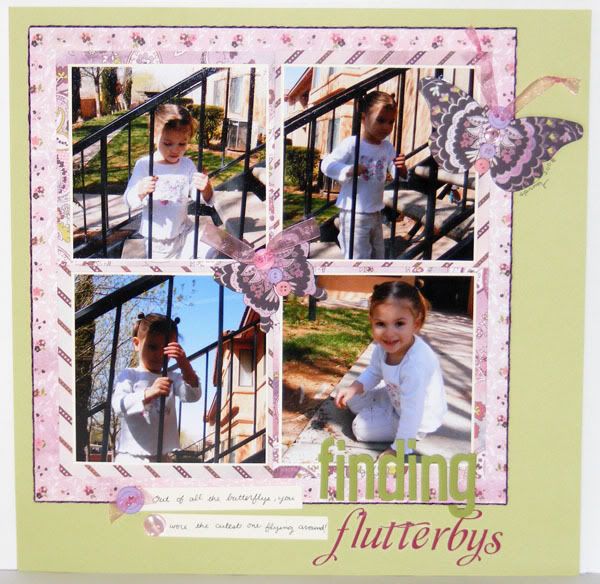 Supplies : Pattern Paper by Basic Grey; Cardstock, Buttons, and Ribbon by CTMH; Thickers Letters and Remarks Stickers by American Crafts; Chipboard Butterflies by Scenic Route; Embroidery Floss by DMC
It's been such a crazy couple of weeks for us. Paul is having another relapse. The effects began last week on Tuesday when he blacked out once and nearly passed out another time. All that week we ended up taking him to the VA clinic here to see what was up. It was so drastic that we thought is was something other than his MS. Yet all his tests came back fine by this Tuesday and it wasn't until he talked to the neurologist that they were like yup, it's a relapse. Luckily, it's been long enough since his last treatment so he can get the IV steroid treatment used to calm down the inflammation in his brain. His last relapse in October was too soon for them to do it again as they had just done it in April. Three relapses in a year! I'm really praying that this is it for a while, poor guy!
I did create a little bit last week but just haven't had the time to really take some pics and get stuff posted. Now that we have his treatment all set up for the weekend I can relax a little and do some other stuff. This layout was made using the IB sketch #12. As simple as this looks it took me forever - the handstitched embroidery border and those butterflies were what did it, lol. Audrey loves butterflies, her shirt in this one has a pretty embroidered butterfly on it which is what inspired the more crafty elements on the page :D Anyway, the girls are at least doing well. It's been really windy so they haven't wanted to play outside too much but I can totally understand since I don't like going out when it's that windy either. Anyway, I hope you all have a fabulous Friday! Thanks for stopping by!