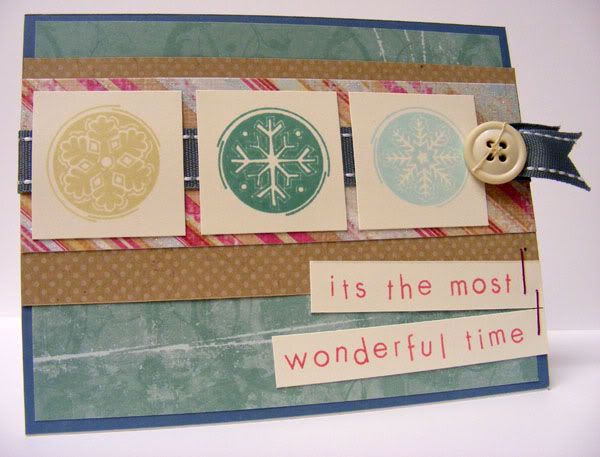 Supplies : Pattern Paper by Making Memories (kraft mini dot), My Minds Eye (laundry line), and CTMH (key to my heart); Cardstock, Ink, Button, Music of Christmas and Sans Small Alpha stamp sets by CTMH; Aqua Mist Ribbon by Papertrey Ink; pinkk staples and waxy flax
The first thing that came to my mind when reading that the theme for this week was going to be time was the song 'It's the most wonderful time of the year'. So I had to make some cards featuring that first line as the sentiment. In fact, I also had to listen to the song while making the cards, lol. To get in the mood to make my Christmas cards for the challenges I listen to Christmas music before I start. I know it's probably silly, but it really gets my mind set ready to create holiday projects!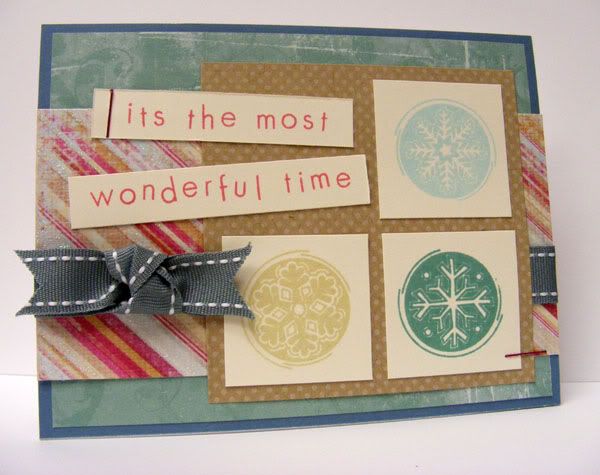 Since I haven't been creating this past week I wanted to play around with placements on these two cards to get my mojo going. The first card is a based off a design from the Originals book by CTMH but the second I just put together. I loved how well these scraps came together! I'm such a purger that I get so excited when I find ways to use up my paper scraps. This year I have done so well in keeping my scrap paper stash down. I hope I can stay this good for the rest of the year! Make sure to check out
Sparkle's blog
with her cards and the links to the other cards for the challenge! Enjoy and have a lovely Sunday!