This weeks colors are for Father's Day! Based off some of my hubby's favorite colors.
Outdoor Denim
Cranberry
Twilight
New England Ivy
Sue's All Grown Up Layout
Alison's Simple Stamped Cards
Sparkle's Here's the Scoop Card
Stacy's Star Father's Day Card
Jenn's Simple Happy Father's Day Card
My Samples: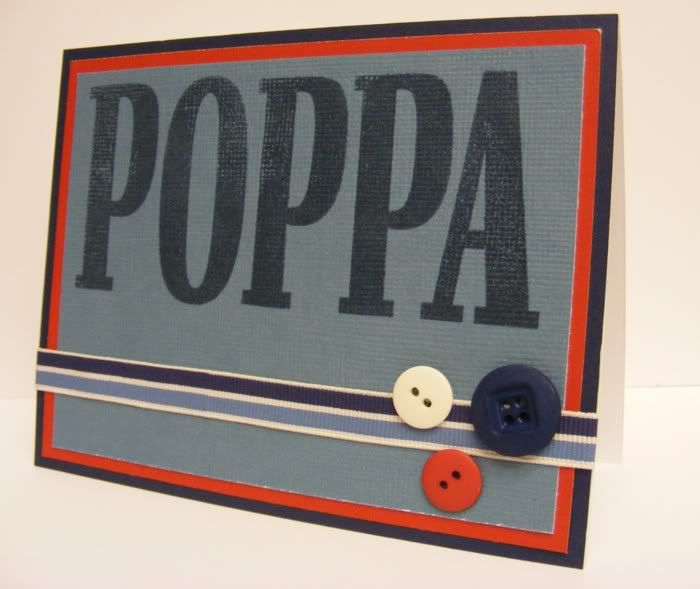 This card is for my FIL for Father's Day. Just something simple since he's a simple guy and plenty of blue since I think that's his favorite color. I don't know for sure, lol, but Paul always says to use lots of blue because dad likes blue. Poppa stamped with the Building Blocks alpha set on textured CS and then just a strip of outdoor denim ribbon rounds ribbon and some buttons to embellish.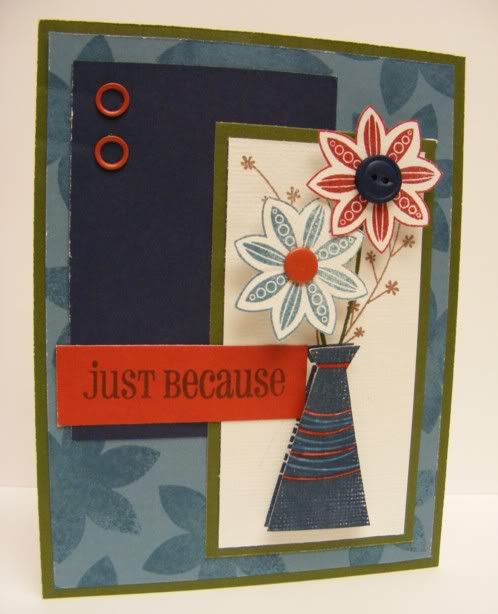 I made this card last night because I didn't necessarily want to make a masculine card with these colors for the challenge. I actually didn't like the card at all after I finished making it, but looking at it now I think it's alright. I think the reason I'm not loving this card is the colors, I've been in such a mood for bright fun summer colors and these seem like anything but, lol. Uses the With Love, Say it in Style, and Cottage floral stamp sets.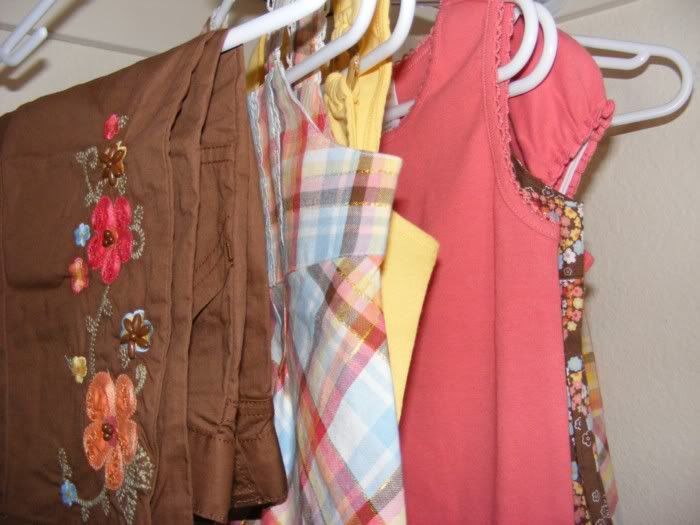 I wish clothes shopping for me was as easy and price savvy as shopping for my girls. We went to Gymboree and got 5 super cute tops, a pair of embellished capris, and 2 adorable summer dresses that all match for just $75. I'm lucky if I can get one top and one bottom for that much! And a wardrobe that all mixes and matches, that's worth the money in just saving me morning stress, lol. Caitie was already wearing one of the dresses when I took this pic and all but one of the shirts were bought for Caitlyn. Audrey fits into many of Cait's clothes already and with so many hand-me-downs we only buy her clothes when she finds something she really likes. Yes, my girls usually pick out their own clothes. They are little fashionitas already, lol. I wish I had my camera with me at the store, Caitie was just picking out entire outfits with the purse and shoes, everything! I had to stop her because I wasn't about to buy her yet ANOTHER purse and MORE shoes. I need money for clothes too, lol.