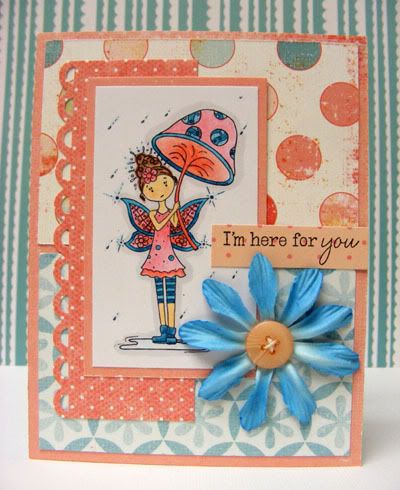 Supplies : Paper by My Minds Eye and Making Memories; Vintage Picnic Sentiments and Ink by Papertrey Ink; Flower by Prima; Button by My Minds Eye; Twine by Papertrey Ink; Colored Pencils; N0 Copic Marker;
How are you at using your
old supplies
? The challenge at
Practical Scrappers
this week is to use supplies that are over a year old. The stamps are newer, the image is a digital from
The Stamping Boutique
and the sentiment is from Papertrey's Vintage Picnic Sentiments set. The image was colored with pencils. I have to admit it was fun to color in an image, it's been quite a long time since I've done it so I hope she turned out alright.
Speaking of old supplies I confess this was a very difficult challenge for me since I'm a chronic organizer
and
a purge freak. Seriously, I go through my stash at least every couple months and 'reorganize' my space which usually ends up with me purging anything that I feel I won't use. I do have to mention that I don't have a huge scraproom or a ton of supplies (
click here for my scrap space
and yes it's changed a bit since then. I think I have less stuff now, lol.) Simply put if I have too many supplies I feel more stumped when I create. Reorganizing helps me to remember all the fun goodies I have and purges help me reassess what I buy. It's an ongoing journey for me and I'm sure it'll always be that way but for the most part I like how I rotate through my stuff. Just a little bit about my stashing habits or lack thereof while we're on the subject of using old supplies ;) Thanks for reading my ramble and have a happy Tuesday!