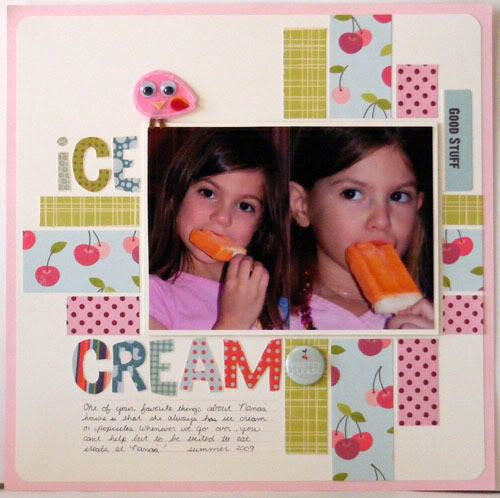 Supplies : Papers by October Afternoon; Title cut from Cosmo Cricket Paper; Cardstock; Sassafrass bird feltie; Dear Lizzy Button Flair; October Afternoon journal card (good stuff); Journaling Lines stamp set and Hibiscus Burst Ink by Papertrey Ink; Corner Rounder by EK Success
Here's my layout for the
Friday Sketch
at
Practical Scrappers
. I only saw it last night as I've finally gotten back in the habit of getting online. With all my future posts I'm sure you guys didn't notice ;) For the last 3 weeks I've been on the computer all of 2 times. Well Friday was the third. It was really nice to not have to worry about turning it on, though I did miss a whole lot of great inspiration on my fav blogs. I've no hope of catching up on reading them, but I think it was well worth a break from our tech crazy world. For Shanna, yes I've been to MADE.
Love
her stuff! I've been going crazy with other crafty sites like
Hand Made Mommy
,
Susan Weinroth
,
Made by Joel
(a crafty dad!!),
Made by Rae
,
Make It and Love It
,
MMM Crafts
,
Noodlehead
, and
Craftiness is not Optional
if you want to check them out ;) That's not including all the quilting sites I've been going gaga over. If only I were that talented, ha! I'll stick to paper crafts for now. And thanks for the sweet comments. It was so fun to read through them! I peeked at the sketch again after lunch today and thought to get my crafting groove back on. Here's what I came up with. All the pattern papers are scraps which makes me so happy to use them! Plus they are of some of my fav papers, I adore that cherry print from October Afternoon. Enjoy the layout and if you want to play along visit the
Practical Scrappers blog
for the sketch. Have a fabulous weekend!