I think I'm a pretty simple gal. I don't need a lot to be content. A cup of tea, a good book, some time to create, cuddling with my kiddos, being in my hubby's arms, these are the highlights on my average day. I consider myself a happy person; a pessimist, but usually pretty happy, lol. And it completely makes my day when something nice and unexpected happens. Three days this week I've been blessed with surprises.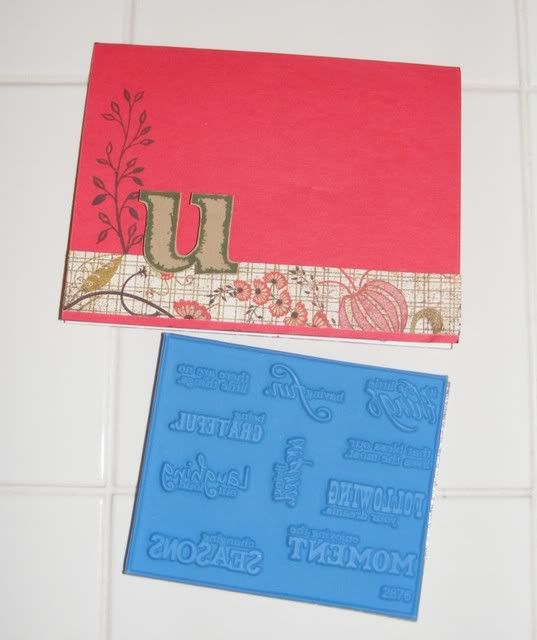 Monday night I received some blog candy that I had won on
Diana's blog
, one of my SBS4 sisters. It was a treat to get this card a little stamp set in the mail since I had totally forgotten about winning anything on her blog. I had started organizing my scrap stuff for the gazillionith time. If I'm not playing with my scrap stuff, I'm organizing it, and it was wonderful to take a break from that to open this envelope and receive some fun snail mail.
Wednesday I was in for a definite surprise.
Sparkle
, who has this knack for always cheering me up, sent me this adorable bella card which I love. It smells delicious, scented with coffee! I'm more of a tea girl when it comes to actual drinks, but I LOVE the smell of coffee. I go down the aisle at the grocery store just to breathe in that wonderfully enticing aroma. Coffee flavored chocolates are also a fav. She also sent me some cute Riley images which are PERFECT for my BIL, who I have the hardest time making cards for. But he loves moose, is an avid camper/hunter/outdoors man, so these are just perfect! I really need to check out the Hanna site again since I haven't been there in ages to see all the cute new stuff and make another wish list, lol. I know they have a ton of stuff I want just from seeing all the adorable creations Sparkle makes with them. She also sent me some lattebella images! She's been on my list of to gets since she came out. Her and yogabella, and well a lot of others, lol. Wednesdays are my long days because they are Paul's long days and I'm home all...... day....... long....... alone with the kids....... without a car. It was particularly tough this week since Caitlyn is out of school for teacher's training, so she was going crazy not having school all week. I was so surprised to see an envelope from Sparkle in the mail that evening and after reading the note she left me in the card it turned my bad day into a good one. In fact, I felt so much better that I made this layout despite all my stuff not being finished organized (trust me this just does not happen, ask my hubby, lol). I used life delights and Pammie's #4 OOYB challenge for the inspiration. The title was reminiscent of how I felt after reading Sparkle's card.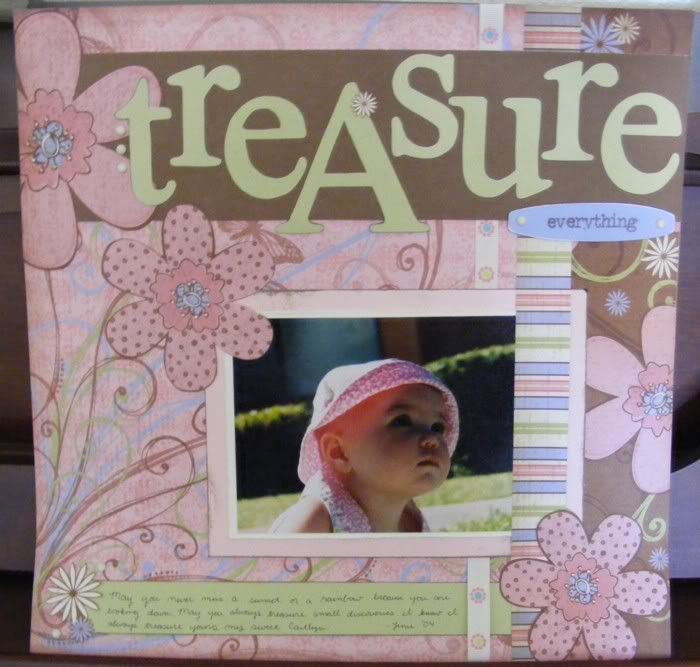 And then yesterday I got this sweet thank you card in the mail from
Alison
, one of my SBS4 sisters that I sent a birthday card to earlier this month. The paper is so fun and I've never seen one of these little sparkle things she has in the middle of her flower before. It looks like a sticker, but it has a thin metal rim around the edge.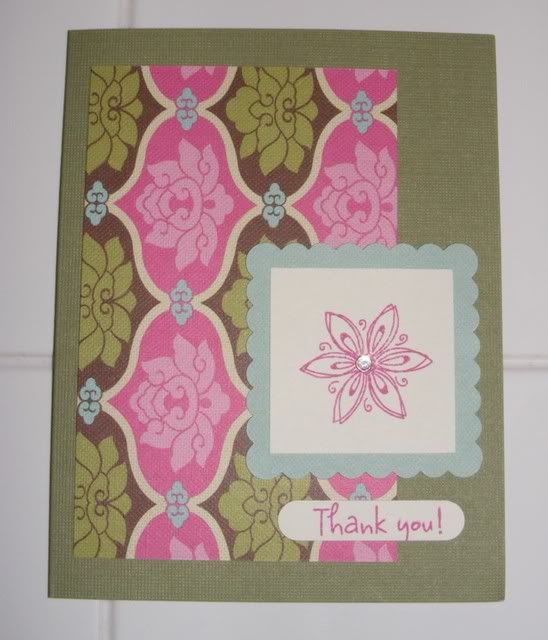 I know I usually post things sooner and post more often, but I haven't been on my computer the past couple days. It's actually been rather nice. Last year April it was common for me to only get online once a week. Of course I didn't have my blog back then, or visit any forums, or even surf. It's easy to get drawn into using a computer every day, and it's very refreshing to have it off for a couple days. It might become habit with this nice weather. We've gone to the water park twice this week already and it's only April. I've read another novel... I didn't like it through almost the entire thing, but the ending made up for it all, lol. I've already started another and have Twilight to read after that. It's been so nice to get back into reading again. I sit on the swing outside with my cup of chai tea and read my book while the girls play. The weather has been up and down but good for the most part so we spend a lot of time out doors now. Evenings have been exhausting since I spend most of that time cleaning up instead of trying to fit it in during the day, so creating has not only taken the backburner to my organizing, but ordinary chores as well. Hopefully that will change soon as I get back into the swing of things. I've finished cleaning out most everything now and ended up with three big bags of stuff to be donated. We'll probably drop them off tomorrow and then I'll feel normal again. Or at least as normal as I can be, lol.