It's hard to not participate in every challenge I see. Sometimes I even mean to make something, even think about what I want to do, but never get around to actually doing it. I'm sure most of you know what I mean. Jena's Inspiration Challenges have been one of the very few that I've been able to keep up on but this is only the 5th challenge she's posted so only time will tell if I can stay up with it. The inspiration piece this time was a box of huggies wipes, the container had pastel yellow paisleys on it. The first thing that came to my mind was some sunkiss yellow paisley B&T that was retired last year from CTMH. The second was playful flourishes. So I set out to look for some photos to match those and found these cute pictures of Caitie posing with one of her many books. Well after that my inspiration changed. I was inspired by her dress and the buttercup paper in Sonata. After that it was 'oh look at that scrap' (the blue butterflies) and 'this would be cute' (another scrap of sonata paper) and before long I even had the page maps layout picked out.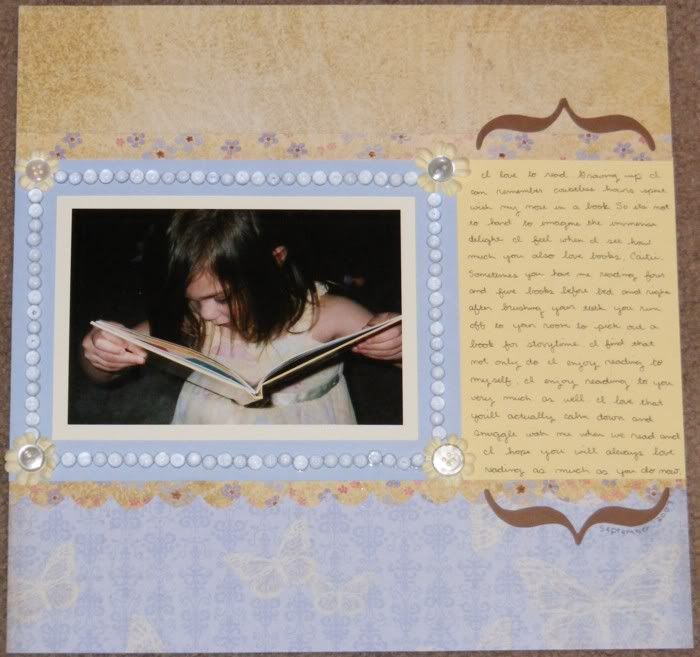 Colors : Lilac Mist, Buttercup, Chocolate
Papers : Life Delights, Sonata
Accents : Primas, fakey dew drops, clear/frosted buttons, dimensional elements
This was fun to make even though I kept getting interrupted. Paul was trying to give me time to do some scrapping but it just wasn't working, the girls wanted my attention still. So I did what I could and finished it late tonight. I finally got my Page Maps book today and spent a good while oogling that (it is so wonderful!!) as well as the online CTMH catty for summer which of course I made a whole other wish list for, lol.