This week's color challenge is inspired by Easter, but it kind of looks like baby boy colors now that I look at it, lol. To play make a new project using at least 3 of the 4 colors. Leave me a comment with a link to your artwork and I'll post a link to it on this thread. Have fun!
Heavenly Blue
Sweet Leaf
Buttercup
Chocolate
Chris' Frog Card
Laurel's Bella Card
Marcia's Baby Boy Card
Emilee's MFT cards
Sparkle's Bella Baby Card
Sue's Pretty Birthday Card
Y.Poulsen's Audubon Zoo Layout
Mary's Cape Flattery Layout
My example :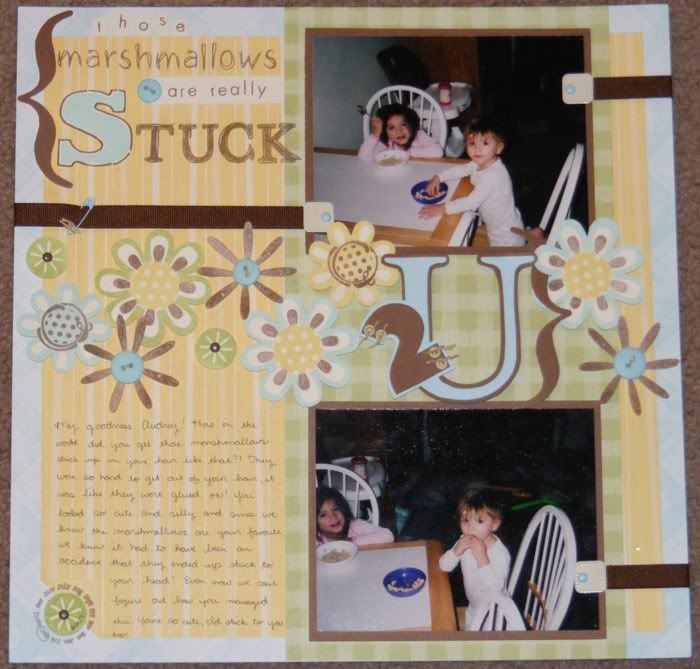 Colors :
Heavenly Blue, Sweet Leaf, Buttercup, Chocolate, Colonial White
Papers :
Retired Harmony and Cozy B&Ts, Let's Get Together
Stamps :
Friendship Flowers, Essential Alpha, Sans Alpha, Charmed Uppercase, Doodle Alpha, Free Spirit
Accents :
Chocolate Grosgrain, Edge Anchors, Heavenly Blue Accents, Waxy Flax Pop Dots, Dimensional Elements, Chocolate Brads, Cream Eyelets
This was also made for
Jules
scrapsidaisy forum challenge to use a particular Page Maps Layout. I made this one for the week two challenge. I flipped the layout horizontally so my title would make sense. All the flowers are pop dotted as well as the 2, U, and S in stuck. This was a really fun page to do since I thought these pics were so cute but I didn't know exactly how I wanted to scrap them. The colors for the color challenge fit perfectly with the colors of the marshmallows and this page maps layout seemed just what the pictures needed.