So sometime yesterday our router went kaputz. I couldn't get internet access on my computer at all and we had thought that maybe it was the DSL modem. But Paul fiddled around and found out it was the router so last night he tried to get it to work with no such luck. This morning he decided to try again before he had to leave for class and got it to work again! Yay :D I had done a lot of layouts last night and wanted to share but without the internet that makes it pretty hard, lol. So here's the first layout, well actually the last layout I did yesterday. It was for Jena's Inspiration challenge. This is the outfit we were to get inspiration from :
My Layout :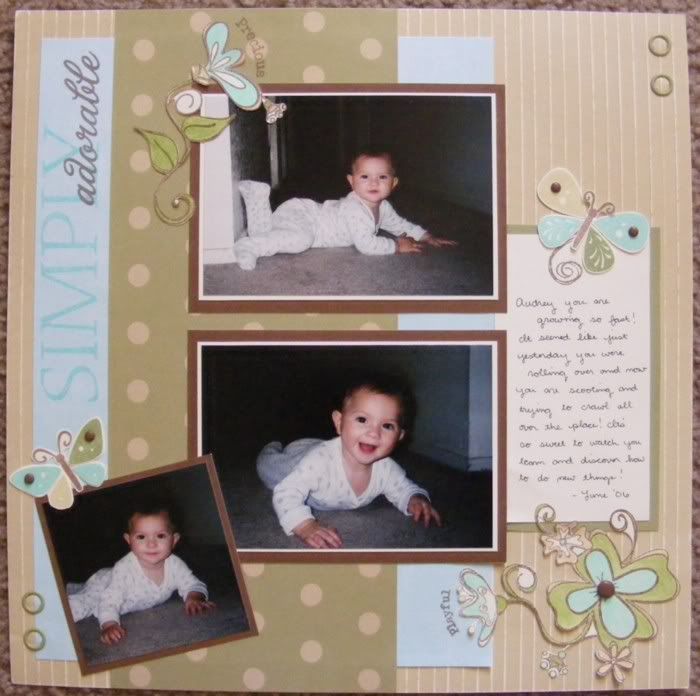 Colors : Bamboo, Garden Green, Breeze, Chocolate, Colonial White
Papers : Best Friends Friends (green/bamboo dot), Blossom B&T (back of the paisley print breeze), CTMH CS
Stamps : Simple Beauty, Flutter, Classic Alpha, Adorable, Playful Flourishes
Accents : Garden Green Conchos, Chocolate bigger and mini brads
The bamboo CS was scored every 1/4 inch and sanded to mimic the corduroy pants, I pieced the butterflies to be more like the cute patchwork butterfly on the pants and basically used the entire color palette of the outfit for the layout. Uses a Page Maps layout as well. I had wanted to random stamp the background but it just kept not coming out the way I wanted on my scratch paper so I decided to just use the colored flowers as accents instead. Flowers are colored in with pencils since I don't have these marker colors yet. This was a fun layout to put together though it was really slow in getting started :D
My other layouts :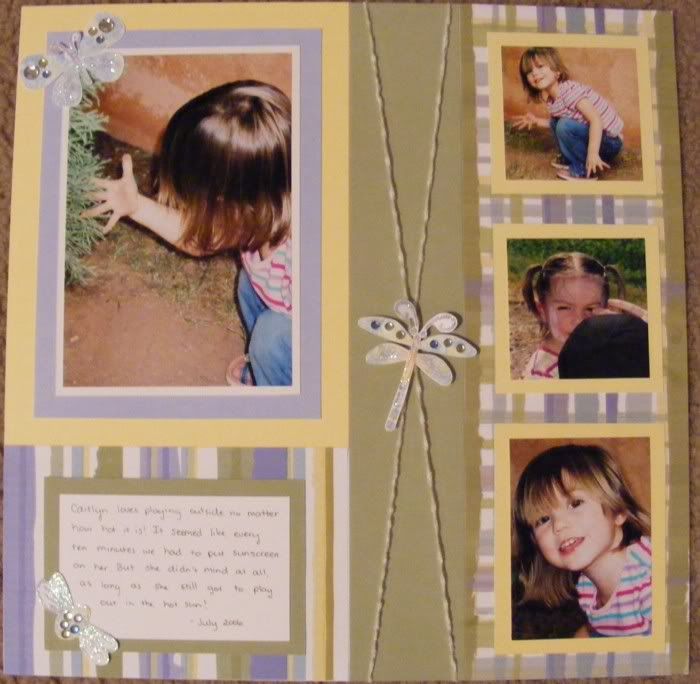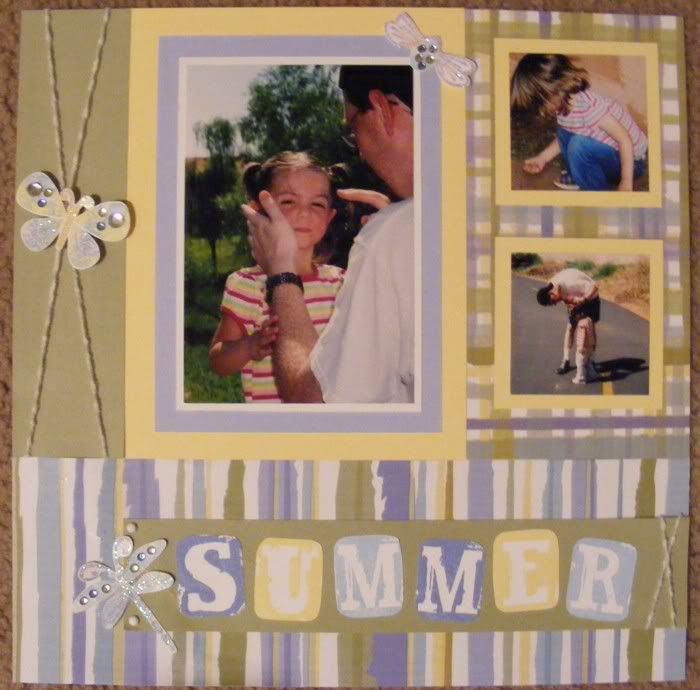 Colors : Buttercup, Garden Green, Lilac Mist, White Daisy, Spring Iris
Papers : Lazy Days
Stamps : Flutter, Cobblestone Alpha
Accents : White Sassy Strands, Rhinestones, Prisma Glitter, White Brads
This one was so much fun to make. I used the technique Jamie, my upline, showed when she introduced the Flutter stamp set a few years ago when I was her customer. It's called the tissue paper technique. You wad up a small piece of tissue (the kind you put in gift tote bags) then get some ink on it and blot the stamp. I used three colors: buttercup, lilac mist, and spring iris. Then after you've got all your colors on the stamp, huff on it then stamp! It's so funny that I remember these techniques when I see the stamp sets we used with it. Prisma glitter was added to the flutter bugs with a glue pen and I put the rhinestones on with liquid glass. I wanted to keep the layout really clean so that the sparkly bugs would really pop :D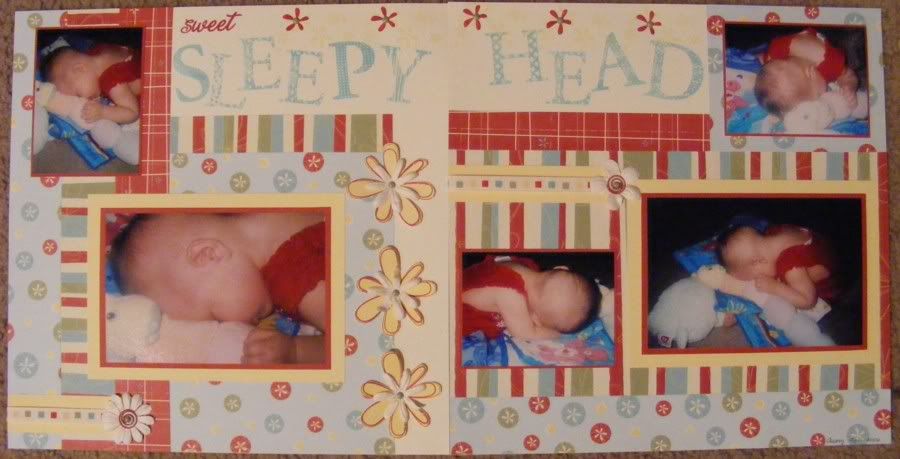 Colors : Cranberry, Crystal Blue, Buttercup, Colonial White, Garden Green

Papers : Let's Get Together
Stamps : Delight in Everything, Boutique Alpha, Adorable
Accents : Just Blooms White Daisy, Garden Green Brads, Cranberry Spirals, Garden Green Ribbon Rounds
I had these pictures inside my Cherish book last week before my migraine hit. It uses Then & Now in the Cherish book, one of the few layouts I hadn't used yet. I love these papers and just had to use them even though they don't really match the theme of the photos. But the colors were just right :D
Colors : Dutch Blue, Sunflower, Clover Meadow, Cranberry
Papers : Route 66 Level 1 kit
Stamps : Cobblestone Alpha
Accents : Blue Brads, Col White edge anchors, Stickease with the lvl 1 kit
There are some level 1 kits that I can use so easy and make layouts I love and then others that I just have the hardest time scrapping with. This level 1 kit is one of those that I just have no idea what to do with but I didn't want the entire lvl 2 paper pack and the level 1 looked like it would work out great. The first pages I did with this kit I wasn't ecstatic about so I tried something a little different with this one. I like this one a lot better but am still having a hard time falling in love with something other than the fun colors. I think it looks good, I just think it looks... boyish, lol. And since it's with my dear daughters, I'm feeling like the layout doesn't fit. I'm sure once I get it in my album (gotta start working on that!) than I'll be fine since I have a dozen cute girly bath pages. I'm just SO used to making girly pages where there is ALWAYS something feminine on the layout that this strikes me as out of place, lol.
So that's what I got done. I must have been scrap starved because I didn't want to stop creating! And now I'm caught up with my page a day goal again :D Maybe now I can try and catch up on some of the other challenges I've been wanting to do!