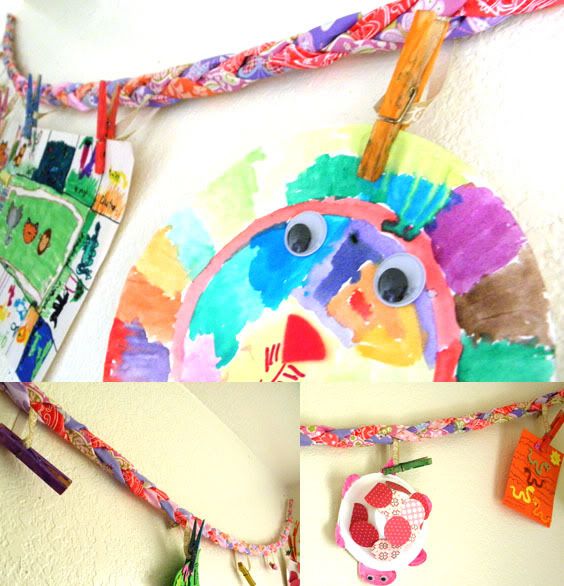 Despite the lack of posts these past summer months, I have been getting a little crafting time in. Mostly sewing. This weekend I had a little time to take pictures and type up a few posts. These are a few quickie photos of the art garland I made for the girls' room. They have been wanting someplace other than just the fridge door to display their art projects (especially the funny shaped stuff), so I thought I'd pick up some clothespins from the dollar store and find some string or something to hang them up laundry line style. But I had a hard time finding thick enough string that wasn't ugly, lol.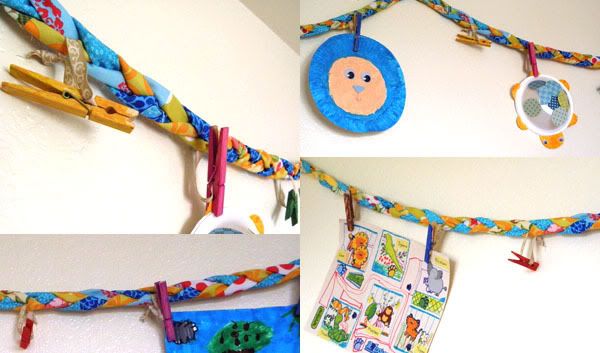 So this last week I came across
this tutorial for a storage softie garland
linked via
One Pretty Thing
and adapted it to an art garland. The main differences are that I cut my strips 2" wide by however long my scrap was and I sewed up the strips right sides together and pressed them open for a more polished look. When braiding I simply twisted the fabric so that the zigzag seem was hidden in the back. So cute!! I love how they turned out and it was the perfect project to really whittle down my fabric scraps pile! The purple/pink one is C's since purple is her favorite color and the blue/orange one is A's since blue is her favorite color now. I let them each paint their own set of clothespins as well. They love that they have a special place to hang their art and I love that it looks way cute in their room! Enjoy and I hope everyone had a happy 4th!