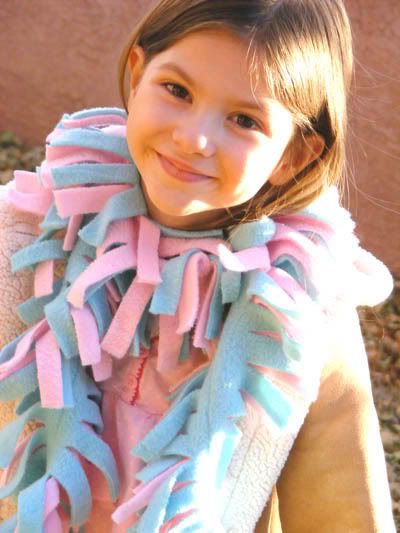 Aren't these just so cute! I've had a stash of fleece remnants hanging out in one of my fabric bins for a while, so I thought it would be fun to see what kind of tutorials are out there for fleecey scarves. This
Easy Fringe Fleece Scarf tutorial
caught our eyes and I knew immediately that we needed to try it out. The girls picked their colors from the stuff I had on hand, which was super fun for them. Then they watched me whip them up!
I ended up making theirs 6" wide by about 45" long. I just cut selvage to selvage and then trimmed the selvages off. Right sides facing out
(note that most fleece doesn't really have a 'right' side - mine had a fluffier and flatter side, so I used the fluffier side as the right side
), sew a seam down the long side middle to hold your two or three colors of fleece then cut strips all the way down one side of the seam taking care not to cut through the seam itself. I gave myself a good inch away from the seam. Repeat on other side of the seam. Shake up your scarf, both to mix the fringes as well as shake off the extra fleece fluff ;) The fleece won't fray and these are super quick and easy to make! It took
less than 30 minutes
to whip them both up! These would make great handmade Christmas gifts for the little girls as well! If fringe isn't your style
Grosgrain
and
One Pretty Thing
have a wonderful list of different style scarves to DIY. I hope you're all warm and cozy this winter ;) Thanks for stopping by!