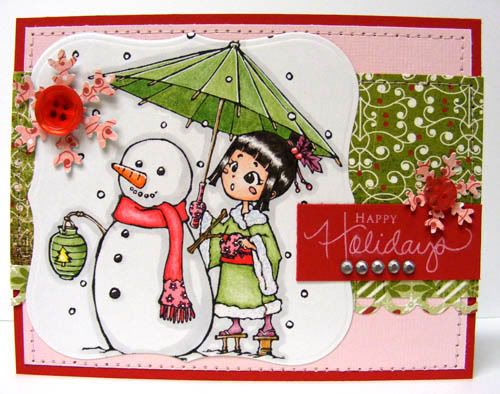 I finally got my cards mailed out Saturday. I only had a handful of super simple cards I made throughout the year, like 6 lol, so I had a few more I needed to make. Lucky for me, I read about Sparkle's method of coloring many images at once. She picks her papers, chooses her colors to match, then colors the batch! Sounds easy enough ;) Thursday I spent a couple hours coloring some images while watching a flick with Paul and then Friday I put together the cards. So Saturday they were mailed. Hopefully they'll get to their destinations by Christmas. If not, they'll be a post Christmas treat! I'm seriously making the resolution to add Christmas card making/writing/sending to my Thanksgiving weekend Christmas decorating tradition.
The first card is using Sparkle's Rin with Snowman stamp. It's also my card for the
Cupcake Inspirations challenge
. The inspiration cake is an amazing Santa Cake, you should check it out! This image is so fun to color and this card ended up one of my favorites that I made! The second one uses a fun hot cocoa cup from Stamping Bella, such a cute image and it's really fast and easy to color in. I really liked making my cards this way, it was fun to color them freely and also to see what papers ended up working out with my images the best. Anyway, enjoy and have a wonderful Monday!