Supplies : Tiny Treats Valentines, Polka Dot Basics, Borders and Corners Circles, and Everyday Classics stamp sets, Ink, and button twine by Papertrey Ink;
I had a baby shower to go to last Saturday and being the scatter-brained mom that I am I completely forgot about it until that morning. So I rushed out to shop for the new baby boy and found a couple darling outfits (didn't get pictures, oops!). The colors were orange, brown, and khaki in both outfits, one sporting a truck the other a puppy. I got home with about 20 minutes until I had to leave for the shower and so I made quick work with a simple tag and card.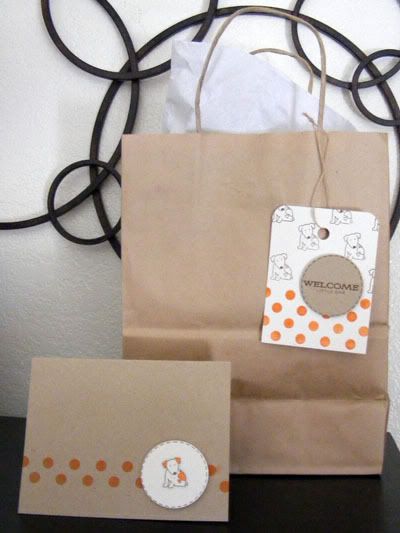 I've been trying to be more earth conscious with my wrapping so I used a repurposed kraft bag from the quilt store and some of the packing paper from an online order. I grabbed some kraft and rustic cream scraps, pulled out the orange zest and dark chocolate inks and went to work. I kept both the tag and card very simple, the dog and welcome circle elements pop dotted up for some dimension as the only real embellishment. For just a few minutes I think it turned out very cute! The pictures aren't that great since I just propped everything on top of my armoire real quick to snap a couple photos before running out the door with the girls. We were about 10 minutes late but it ended up just fine since the guest of honor wasn't there yet ;) Anyway, enjoy and have a lovely Sunday!