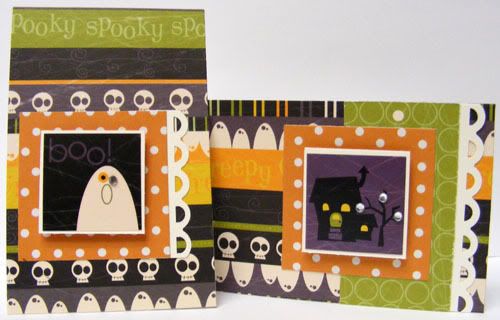 Supplies : Paper and Stickers by Pebbles Inc; White Cardstock; Rhinestones by Kaiser; 3D Foam Squares; Apron Lace Punch by Fiskars
Aren't these stickers just so adorable! I saved the circle ones for my layouts and used the bitty square ones on these mini cards. That haunted house is too cute to be creepy. I added some non-halloween scraps to mat the stickers and give them more attention on the card instead of getting lost on that busy but darling background paper. I kept it simple with just a few rhinestones to accent. These Pebbles papers are double sided so even though I only had 2 different scraps on hand, I still had 4 different patterns to work with on these cards and I wanted to make sure that I made some with the spooky stripe. Two cards for one, it's hard to not get addicted to these mini cards! Enjoy and have a fabulous Friday!
For some regular life stuff Paul's appointment went well. His MRI results were good news, he has no new lesions since his last MRI which is wonderful since the previous 2 MRIs he had showed new lesions each time. Paul's symptoms have gotten worse in the past 2 months though, bad enough for us to assume he was having a relapse, and the neurologist thinks that might be attributed to stress and depression/anxiety exasperating his MS symptoms. There really isn't anything more they can do to help with the symptoms except try out some other medications. The important part is that his MS isn't actively destroying more nerves and that's the best news we've had with his MS in two years. The hopeful news about him not having a flare up is that it may mean he's headed toward some stable years. Out of the 9 years since he's been diagnosed he's had less than 4 stable years, so I'm praying that he gets some of them soon! Thanks for visiting!