Supplies : Paper by My Minds Eye and Pebbles Inc.; Ribbon by Pebbles Inc.; Cardstock scraps - LSS and CTMH; Die cut Patterns from Spellbound - Slice
This was such a fun project! I had seen these pennant banners here and there and since Halloween has become a rather large holiday for us I figured it would be fun to try out making one. The
instructions are at Splitcoast
but for a quick overview you will need a 12x12 sheet of paper for every 6 triangles you want to make. Cut your 12x12 sheet in half so that you have two 6 x 12 pieces. Across the top of each piece use a ruler to make a mark at 1", 6", and 11". Then across the botton of each piece mark it at 3 1/2" and 8 1/2". Draw a line to connect or do like I did and just line up the diagonal marks and cut. I trimmed my pennants with edging scraps cut with my mini scallops and pinking deco scissors. I then cut the 2 1/2" letters with my Slice from various scratch papers and then did the same with the fun pumpkin, date, and bat elements. Using my 1/8" hole punch I punched two holes in each top corner and thread a long bit of hemp to hold the banner together, then tied loops for hanging at the ends. Buttons on the pumpkins and some ribbon finish it off. Because I didn't have any single pattern of ribbon long enough for the entire banner I used 4 different patterns trimmed to size which did double duty as embellishment and hiding the punched holes and strung hemp. This was such an easy and fun project to make!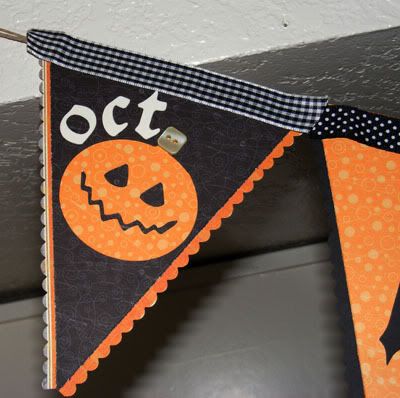 Here are a couple closeups of the pumpkin ends on the large banner.

This is a smaller banner I made using other My Minds Eye papers. I had acquired quite a stash of Halloween papers and many of them I realized I probably won't get around to using on pages. I've been trying to use things up as I buy them and use up my stash as well since it's getting larger than I like. These pennant banners were a great solution and I ended up using 6 full 12x12 sheets and many scraps.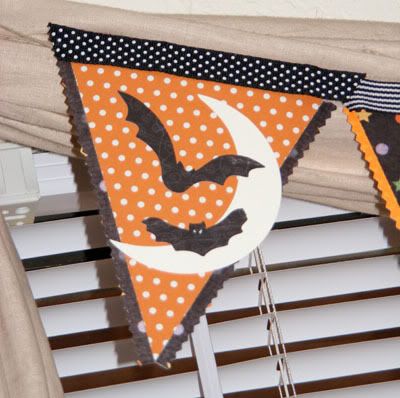 Another closeup, this one of the bats by the moon. I really like the simple shape silhouettes offered by the Slice. I use it mainly for alphas but I'm finding the images are really fun too! Enjoy and I hope you all have a wonderful weekend!