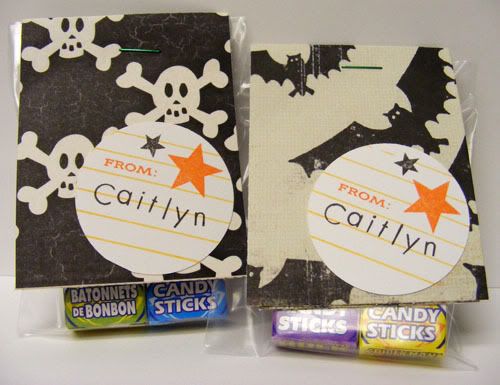 Supplies : Paper by My Minds Eye; White Cardstock; Journaling Lines, Around About Sentiments, and 2008 Holiday Tags Stamp sets by Papertrey Ink; Sans Alpha stamp set and ink by CTMH;
This year I thought it would be fun for the girls to give out more special treats than just a piece of candy. Caitlyn loves to give out paper crafted things and this was another simple way I could use up more Halloween paper that I'm not going to be scrapping with. These giftie bags also solved the problem of making sure each kid in her class got 2 of the super hero candy boxes. I cut my papers 2 1/2 x 4 for 20 kids and used up one full 12x12 sheet plus some scraps. I kept all of Caitlyn's papers black and white and you'll see why in a moment. For the tags I punched out 20 white 1 3/4 circles with my EK punch, then stamped the journal lines across each circle in sunflower. The stars are from the Around About Sentiments set and the From is from last years Holiday tags set, both Papertrey Ink. Last I used CTMH's sans alpha set to spell out Caitlyn's name and stamped it on all the tags. Easy peasy!
Since I volunteer in Caitlyn's class every Friday and I always have Audrey with me I thought it would be appropriate to make sure Audrey had treats to hand out to the class as well at the Halloween party. She has rainbow twizzlers to hand out which match Caitlyns Marvel Heroes candies even though it's Audrey who will be from the Marvel Universe. I kept Caitlyn's black and white and then did Audrey's with the orange and orange scraps just to help me keep better track of how many treats I was making and to give the girls something different from each other even if I made the same type of tags for them. I made the tags the same way just switching up the color scheme a little with my stamping. Both the girls are so excited. Caitlyn is going to be Supergirl again and Audrey is going as Spidergirl. They look so cute in their costumes! Caitlyn has actually gone back and forth between a Rocker Girl (like Hanna Montana she says) and Supergirl but I think when it comes to the party she'll pick Supergirl. Thanks for popping on by and have a terrific Thursday!