Supplies : Sugared Paper and Glazed Brads, Basic Grey; Buttons, Mind's Eye; Burgandy Flowers, Petaloo; Foam Letters, Thickers; White Flowers, White Ricrac, Baby Pink and Garnet CS, Sketchy Alpha Stamp Set, and Textured White CS by CTMH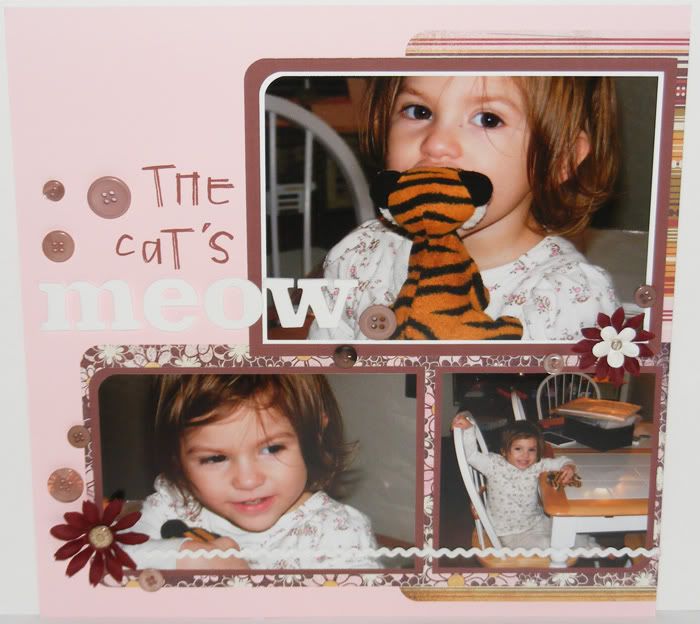 This was my favorite layout of the weekend. It was the first layout I put together at my friend's house, and it was so fun to finally get a chance to use my Sugared Basic Grey paper and brads! These pictures are so special since it's rare for me to catch Audrey on film treating her Mao the same way she does everyday. That poor little tiger deals with a lot of tough love, but he doesn't seem to mind :D The title comes from Mao's name. When Audrey was not quite one she couldn't really say 'meow'. It always came out as 'mao'. After a while she just began calling her tiger 'Mao' and the name has stuck. Even two years later though she can mew, meow, and growl like nobody's business, she still calls her tiger 'Mao'. The cat's meow has stuck... or in this case, the cat's 'mao'.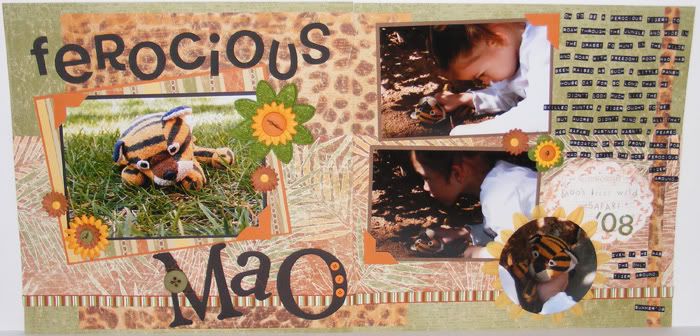 Supplies : Foam Letters, Thickers; M photo corners Chipboard, Rusty Pickle; Little felt flower, Making Memories; Large felt flower, RAK from Jenn; Large Yellow flower, Heidi Swapp; Noteworthy CS journaling prompt, My Minds Eye; Expedition Papers, Autumn Terracota Ribbon Rounds, Black and Chocoalte CS, Autumn Terracota Textured CS, Autumn Sunflower Paper Flowers, Autumn Buttons, Chocolate Waxy Flax, Sunflower Bigger Brads, Sans Small Alpha and Extreme Alpha stamp sets by CTMH; Punch Label font printed in black for journaling
I created this layout second at her house as well. This one was a lot of fun. I had planned the title for the picture on the left for quite some time and had just never made the leap of turning it into a layout. I love the way it pulled together with the expedition papers and mish mash of embellishments. Since I don't have a label maker I just used one of the free fonts you can download online. It did however take quite a while to cut out all the words and adhere them to the page, lol, but it was definitely worth while since I really like the effect for this layout. The journaling is all about Mao's first time outside in the yard. I'm really paranoid about losing the girls' lovies so I usually make them leave them inside the house. Audrey had a blast with him and he looked like such a sad pathetic little tiger that I loved the idea of using an ironic title for his page.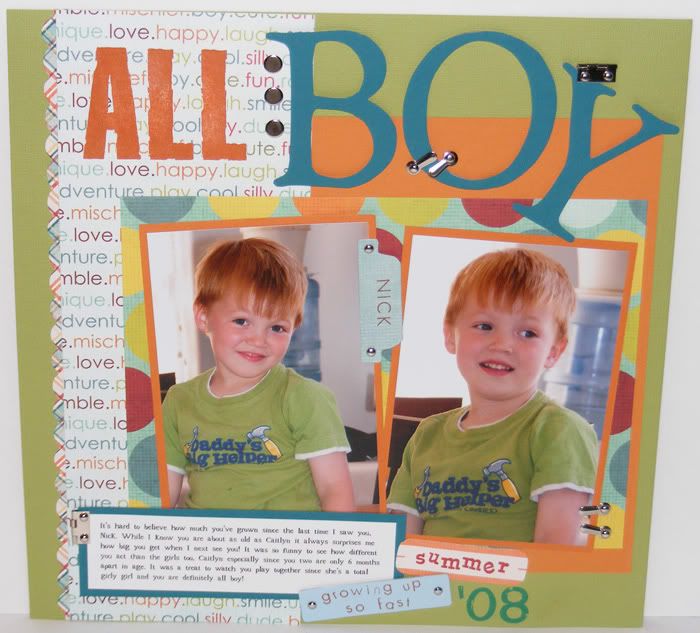 Supplies : Pattern Paper, Mini Orange Label, and Blue File Label by My Minds Eye; Chipboard Letters by Rusty Pickle; Textured Orange, Pale Blue, and Teal CS by Bazzil; Chipboard label, Silver Accents, Sweet Leaf and White CS, Rustic Alpha, Atomic Alpha, Extreme Caps, and Sans Small Alpha stamp sets all by CTMH; 39 Smooth Font for Journaling

This cutie is one of my nephews. Isn't he just a charmer? I have to say that this was the most difficult page for me to do since I usually don't do boy pages. I kept wanting to put flowers and ribbon, well maybe the ribbon would have worked, but he is such a boyish boy that I didn't want to put any froo-froo on the layout at all, lol. In the end, I think I did a pretty good job with his layout, but I was more than happy to return to making little girl layouts again!!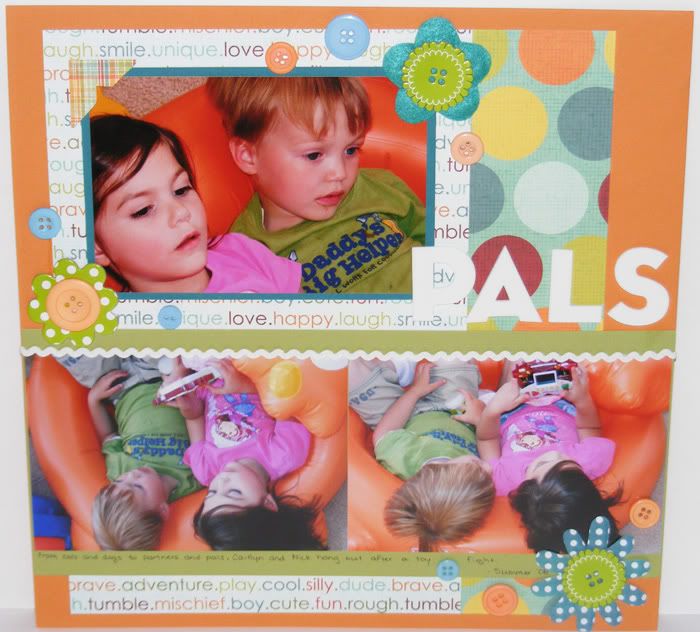 Supplies : Pattern Paper and Buttons by My Minds Eye; Foam Letters by Thickers, Chipboard Flower Buttons by American Crafts; Textured Orange, Teal, and Green CS by Bazzil; Felt Flower by Making Memories; Dotted Flower by Doodlebug; Chipboard Photo Corner by Rusty Pickle; White Ricrac by CTMH
These pics are so funny because they were taken right after Cait and her cousin finished a battle over his new toy truck. Cait wanted to play with it and he most definitely did not find that at all acceptable. But it wasn't long before they were watching a movie peacefully together, lol. I went ahead and used the same boy papers as my All Boy layout but added flowers and the ricrac to this one since Cait was in the pictures with him.

Supplies : Pattern Paper, Friends and Tag Element by My Minds Eye; Ribbon unknown - cut by the yard from my LSS; Foam Letters by Thickers; CS by Bazzil; Spiral Flowers, RAK from Jenn; Chipboard Photo Corners by Rusty Pickle; Chipboard Letters and Arrow from CTMH; Apple Butter Font used for Journaling
These have got to be the most adorable pictures I've gotten at the waterpad. Audrey had found a little boyfriend, or rather he found her. They walked all around together holding hands, laughing together, he even had his hand on her back while watching the other kids play at one time! It was so sweet and I'm so glad my camera has such a good zoom because I don't think I would have caught this little romance if I had been closer. I used my pagemaps book for the layout, converting on of the 8.5x11 2 pagers into a 12x12 2 pager. Then I swapped the places of the pages. I finally got to use some of these adorable spiral flowers that Jenn sent me too. I had been trying to find a way to use them that I really loved and the gold ones she sent worked perfectly with this layout! The yellow and green CS in this layout are actually the back sides of the pattern paper. Anyway, that's what I did this weekend! I haven't gotten around to making my sample for the color challenge yet with all the scrapping I was doing so it might be a little late. Cait has her first formal speech therapy appointment tomorrow so the color challenge might not be up until Monday night or Tuesday morning. Thanks for stopping by!