18" x 24" - Skeletal Study - Skull and Elbow - Pencil - October 3, 2011
This was the last week of sketches before midterm and we worked on the skeletal form with our very stylishly posed yet somewhat incomplete skeleton ;) It felt perfect for the upcoming Halloween and I just realized with posting this that even my extra credit sketch is Halloweenesque! Anyway, this piece is simply whatever medium we wanted on the white. I picked pencil.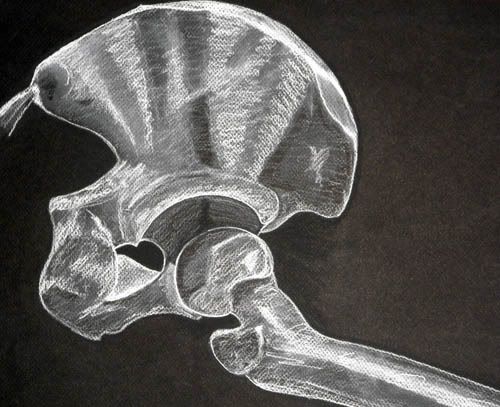 12" x 18" - Skeletal Study - Hip - White Charcoal and Conte Crayon on Black Paper - October 5, 2011
The real challenge came when we had to use a white medium on black paper. Trying to draw the light instead of the shadows was really difficult for me and I got very frustrated with this one, to the point where I ended with scribbling frantically with a lot of my marks. Everyone who saw it really liked it though, so I suppose it didn't come out as bad as I thought ;) After all, that 'sketchy' look is quite popular, lol.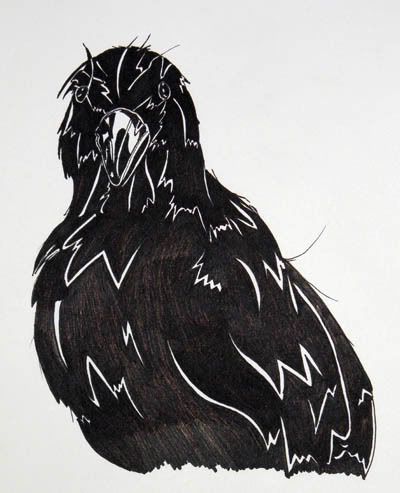 9" x 11" - Extra Study - Crafted Raven - Ultra Fine and Fine Sharpie - Oct. 7, 2011
And here is my extra credit piece. The raven I used was actually missing an eye and he's a bit banged up, so I tried to improve him slightly in my picture. I at least gave him two whole eyes ;) Anyway, it's semester break and I'm really REALLY hoping to steal some crafty time - make a card, scrap a page, or sew something, while on break. So hopefully, I'll have something actually crafty to share with you soon! Thanks for sticking around gals ;)