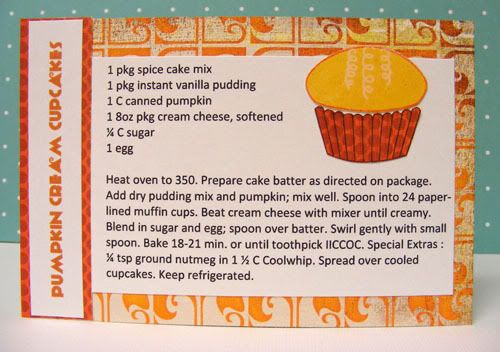 Speaking of those naughty cupcakes in my last post, here's the recipe along with a no fuss recipe card!
Pumpkin Cream Cupcakes
(Kraft Recipes)
1 pkg spice cake mix + oil, water, & eggs per box instructions
1 pkg instant vanilla pudding
1 C canned pumpkin
1 8oz pkg cream cheese, softened
1/4 C sugar
1 egg
Heat oven to 350. Prepare cake batter as directed on the package. Add dry pudding mix and pumpkin; mix well. Spoon into 24 paperlined muffin cups. Beat cream cheese with mixer until creamy. Blend in sugar and egg; spoon over batter. Swirl gently with small spoon. Bake 18-21 min. or until toothpick inserted in center comes out clean. Special extras: mix 1/4 tsp ground nutmeg into 1 1/2 C coolwhip and spread over cooled cupcakes. Keep refrigerated.
Another fun recipe card of our favorite rolls. I'm keeping my cards simple and flat and I haven't decided yet if I'll be putting them into a slip in photo book or in a photo file box. Either way I want them to be flat and easy to handle ;D So far I'll just be working on our favorite recipes. We have quite a few so my goal is to keep it easy and simple, just print one sheet of recipes at a time (3) and make them into cards.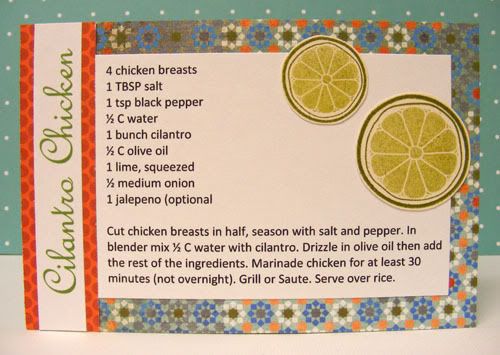 Here is a recipe we haven't used in a while and it is oh so tasty. The girls love "Green Chicken" as they call it ;) I hate how my recipes get lost like this, which is why I'm so excited about this new card thing I'm going to try out. I've had other recipe cards before, but they were usually too small. The large swap I tried was huge 6x6 cards which were cute, but way to big and bulky to be efficient. This is so much quicker and easier. Plus I can use scraps and you all know how much I love that! As we find new favorites I could make the cards and have them all handy together! It makes me want to get the recipe card stamp set from PTI but I'll make do without for now ;)