I hope everyone had a Happy Mother's Day and a great Graduation weekend! We've been so busy with family and celebrating, it'll be nice next week when things finally wind down for summer vacation! The first week of May was our week for Teacher Appreciation. I didn't get a chance to get it posted earlier and the pictures aren't great because I took them in a hurry, but here's the card I made for Caitlyn's teacher. Inside Caitlyn drew a picture of her teacher with a rainbow, clouds, and a happy sun inside and wrote a short sweet message. At the bottom I added a message from Paul and I. I was so pleased with how cute it came out! Mrs. F's favorite color is red so that made using red apples all the more fun! This was the first time I used this set for a teacher gift and I can just tell I'm going to be loving using it for teacher projects for years to come!
Here's the card and matching tag on the bag together. I love kraft bags and the really fun part is the quilt shop I frequent puts your purchase in these plain kraft totes so I not only get lovely fabric to play with but also a free gift bag to use later ;) As for us, we had a neurology appointment for Paul a couple weeks before graduation. While his drop-leg has been getting worse and he now wears a knee brace most days to help with that, he did have more sensation in his legs than he did at his appointment back in October which is a good sign. He also had slightly better balance and didn't fall over this time when he had to do some of the closed eye balance tests. Hopefully that means his injections are helping his system retain as much functionality as possible ;) We also got some good news about a new medication that's going through approval right now that's specifically for MS patients to help with walking. It's supposed to help with symptoms like drop-leg so Paul and I are excited for when the FDA approves it and he can try it out.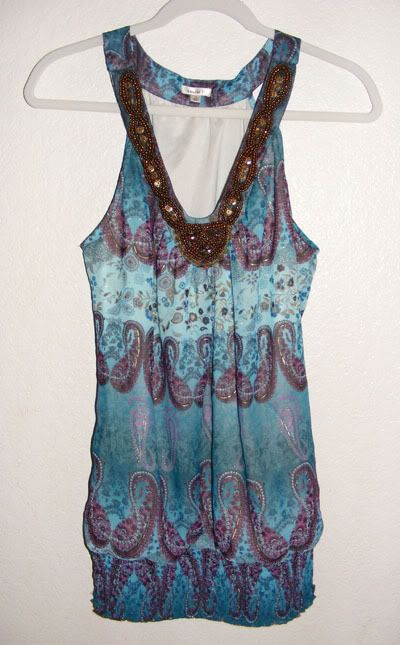 Mother's Day was fun for me. I got to be lazy and Paul did the dishes, vacuumed, and took care of the girls. Paul got me this gorgeous top, it looks lovely with my olive skin ;) Then we went to see Iron Man 2 and out to dinner. His sister spoiled us by watching the girls for 4 hours, so nice! Paul is finally graduated now with his bachelors, yay! He graduated with Honors in English Literature and hopefully now can take a little time off to write before he takes the GRE and heads back for more school to get his Masters, lol. It's strange to think he's been in school since before Audrey was born. She was born just before midterms his first semester.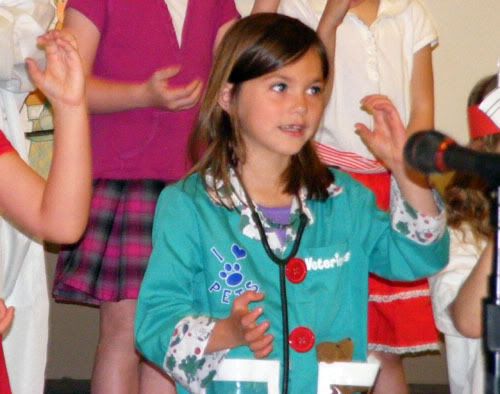 This week has been all about Caitlyn. Her class spent Monday and Tuesday getting ready for their program on Wednesday. The theme was 'When I Grow Up' and Cait was a Vet ;) It was SO cute! I can't wait to see more of these as she goes through school. And she was so hilarious, she really gets into the dance moves and has such an expressive face! We loved it especially the Macarena Month song and the First Grade song, she was really swinging her little hips and having a great time up there, lol. Thursday was the Teddy Bear Picnic, where they got to bring lunch and a stuffed animal for a picnic out on the lawn, and today they are doing a Reading Party. Tuesday they get to have a water party and then the next day we meet with the first grade teacher and she's done until fall! I can't believe it's been a whole school year already and that she's going to be in first grade, never mind that my girl is going to be
7
! Crazy eh? Anyway, I have done a little crafting the past few weeks, very little but some none the less and I'll be posting those later on ;) I hope you enjoyed and have a fab Friday!