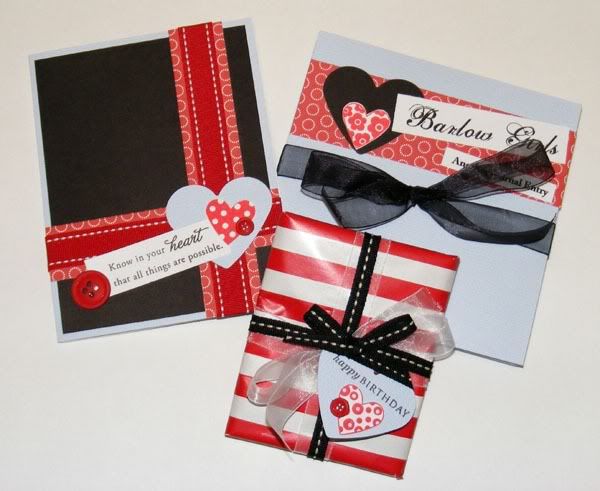 Supplies : Pattern Paper by P Inc.; Blue Cardstock by Bazzil; Poppy Ribbon, Heart Prints, Heart Prints Sentiments, and Father Knows Best stamp sets by Papertrey Ink; Black Cardstock, Black Ribbon, Organdy Ribbon, and buttons by CTMH
This fun little gift set is for my little sister. Her birthday is the day after Valentine's day so I thought hearts would be something fun to do this year. I used a couple colors she really likes which are red and light blue. I thought this color combo turned out really fun!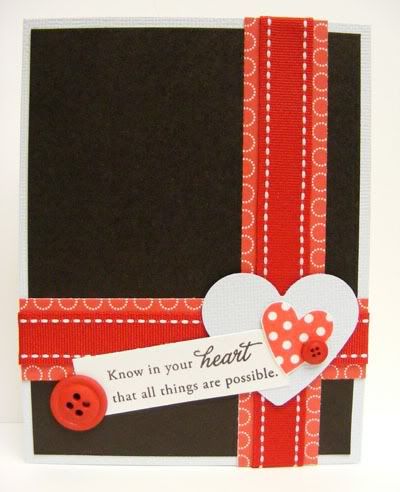 Here is the card close up. Just something very simple since she's a pretty simple gal. I used the tag I made to go with the present (which is wrapped in Christmas paper since that's all that I had, lol!) for inspiration.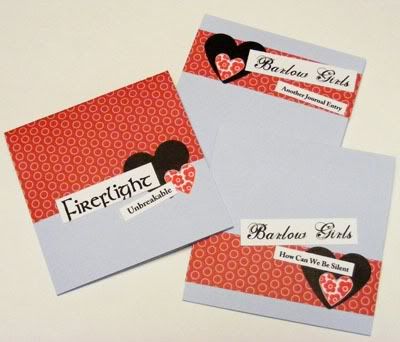 These are some CD cases I made using the template from SCS. I kept with the heart theme and just printed out the names of the CD and what albums they are. I love the stark contrast of the black on that pale blue and bright red! These are so easy to make!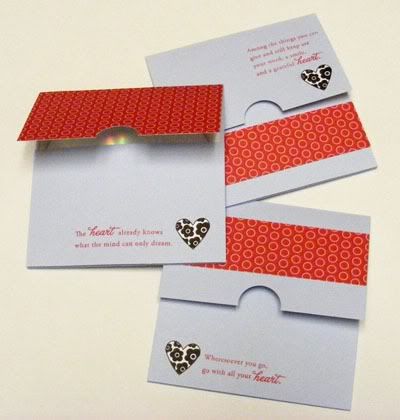 Here is the back of the CD cases. I used some of the Heart Prints Sentiments on there to give my sis a lift. She's had severe depression for the past 7 years and every once in a while she says that some of the quotes I send her make her feel better so it's become a habit for me to try and send her at least a couple uplifting quotes or cards when I send her and my mom snail mail. Now I have my to-be-brother-in-law's birthday card to make aside from my valentines which I haven't even started, lol! We just found out that his birthday is on the 13th, so I need to get crackin'!! Anyway, thanks for stopping by and have a terrific Thursday!